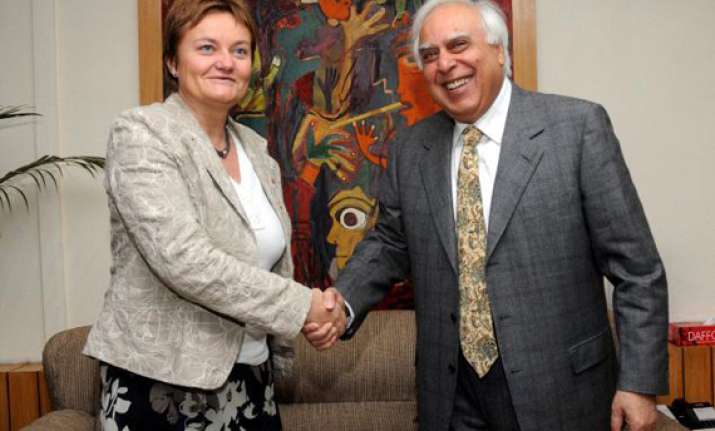 New Delhi, Feb 7: Norway today intensified its diplomatic efforts to ensure that the country's telecom company Telenor's over Rs 14,000 crore investment in India is not jeopardised in the wake of Supreme Court cancelling 122 2G licences last week.

Norwegian IT Minister Rigmor Aasrud met Telecom Minister Kapil Sibal and discussed various issues relating to the 2G controversy and the possible way forward in this regard. 

"We had good, fruitful and constructive meeting with the Telecom Minister. We took up Telenor's case along with other issues," Aasrud told reporters after the meeting. 

Telenor is a majority shareholder in Uninor, a joint venture with Indian realty player Unitech. The Norway government in turn holds the majority stake in Telenor. 

"Both, IT minister and the Telenor official met me to share their perceptions and we had a dialogue on this issue. I told them that (SC verdict) will bring clarity to the sector, the sector is robust and enough spectrum is available. The (National Telecom Policy-2011) policy which will be put out will be fair and robust," Sibal told reporters. 

Telenor claims to have invested over Rs 14,000 crore in Indian operations to pick up stake in Uninor and roll out services across several circles.

On investments in India, Sibal said, "India's market is full of opportunities and no-one should be in doubt on the investments to come into india. Sector is robust and have enough spectrum available."

Uninor, one of the companies affected by the apex court order, has already said that it would file a review petition in the Supreme Court and also take up the matter with the government to secure its investments here. 

"We are talking to the government because we need to protect our investment and we also need to make sure that there is a framework for continuing our operations and this is what all our discussions are all about," Uninor Managing Director and Telenor's Asia head Sigve Brekke said.
 
The company has said that it would wait for new rules on spectrum auction before taking a call to participate in it.