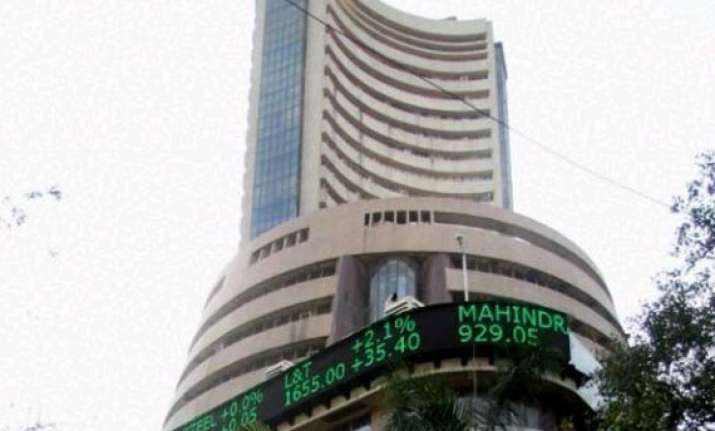 New Delhi: The combined market valuation of five of the top-10 blue-chip Sensex companies surged by Rs 31,164.67 crore last week.
 
While TCS, ONGC, RIL, ITC and ICICI Bank saw gains in their market capitalisation (m-cap), CIL, Infosys, HDFC Bank, SBI and Sun Pharmaceutical suffered losses on the other hand.
 
The country's most valued company TCS also emerged as the biggest gainer among the top-10 firms. The m-cap of TCS surged Rs 12,330.2 crore to Rs 4,94,500.47 crore.
 
The market value of ITC climbed Rs 9,122.61 crore to Rs 2,82,960.46 crore, while ONGC added Rs 7,101.05 crore to Rs 3,72,292.15 crore.
 
ICICI Bank's m-cap rose by Rs 2,206.58 crore to Rs 1,80,068.93 crore and that of RIL went up by Rs 404.23 crore to Rs 3,23,148.52 crore.
 
On the other hand, SBI's value declined by Rs 4,714.61 crore to Rs 1,83,690.58 crore, HDFC Bank (Rs 730.23 crore to Rs 2,03,381.18 crore) and CIL (Rs 568.47 crore to Rs 2,25,115.23 crore).
 
The m-cap of Sun Pharma fell by Rs 466 crore to Rs 1,76,986.20 crore and that of Infosys went down by Rs 416.32 crore to Rs 2,06,380.48 crore.
 
In the ranking of top-10 firms, TCS stood at the numero- uno position followed by ONGC, RIL, ITC, CIL, Infosys, HDFC Bank, SBI, ICICI Bank and Sun Pharma.
 
Over the past week, the BSE benchmark Sensex gained 218.56 points to 26,638.11.