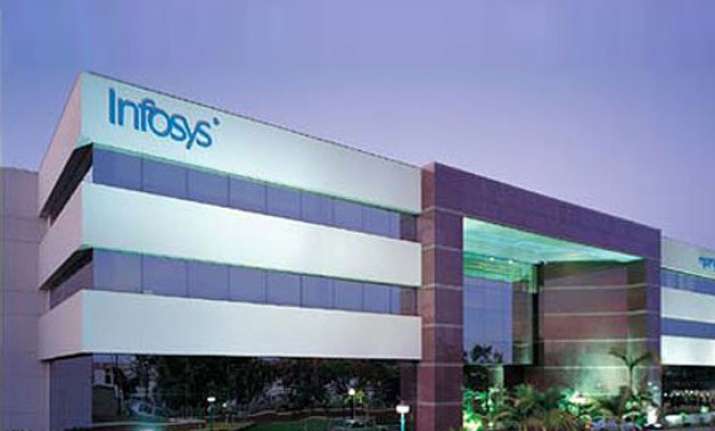 Bangalore: Country's second largest software services firm Infosys today posted 9.8 per cent increase in consolidated net profit to Rs 3,398 crore for the quarter ended September 30, 2015.
The city-based firm had reported a net profit of Rs 3,096 crore in the year-ago period.
Consolidated revenue was up 17.2 per cent to Rs 15,635 crore in the said quarter from Rs 13,342 crore in the year-ago period, the company said in a filing to the BSE.
Infosys had reported a net profit of Rs 3,030 crore and revenues of Rs 14,354 crore for the April-June quarter of this financial year.
Reacting to the numbers, shares of the company dropped 3.07 per cent to Rs 1,132 apiece in early trade on BSE.
The company also announced that its Executive Vice President and CFO Rajiv Bansal has resigned. He will be replaced by M D Ranganath at the close of business today.
Ranganath has held several leadership positions during a tenure of nearly 15 years with Infosys.
For 2015-16, the company gave a revenue guidance of 13.1 per cent to 15.1 per cent in rupee terms. In dollar terms, the company forecast growth of 6.4 per cent to 8.4 per cent.
"We are experiencing a once-in-a-generation opportunity for a services company to help businesses maximise their potential with technology... I am encouraged by our progress. While results in any one quarter are transitory snapshots of a long journey, we do see our focussed execution along our strategy starting to produce encouraging results for our clients, shareholders and Infoscions," Infosys CEO and MD Vishal Sikka said.
Infosys COO UB Pravin Rao said the company had strong all-round growth during the quarter, driven by recent initiatives around service differentiation, improvement in client mining and higher focus on winning large deals.
"Increase in revenue productivity was significant, volume growth was robust, client metrics and utilisation improved while attrition remained stable," he added.
In dollar terms, the net profit grew 0.2 per cent to USD 995 million, while revenues rose 7.2 per cent to USD 4.6 billion in the July-September quarter of 2015-16.
"The impact of significant currency volatility was effectively mitigated by our proactive hedging programme," Bansal said.
During the July-September quarter, Infosys and its subsidiaries added 82 clients.
The company added 8,453 employees in the said period from June 2015 quarter, taking its total headcount to 1,87,976 as of September 30, 2015.
The company's attrition level was at 19.9 per cent in the said quarter as compared to 19.2 per cent in the June quarter and 24.8 per cent in the year-ago period. The company declared an interim dividend of Rs 10 per equity share.
Liquid assets including cash and cash equivalents, available -for-sale financial assets and government bonds were Rs 32,099 crore as on September 30, 2015.