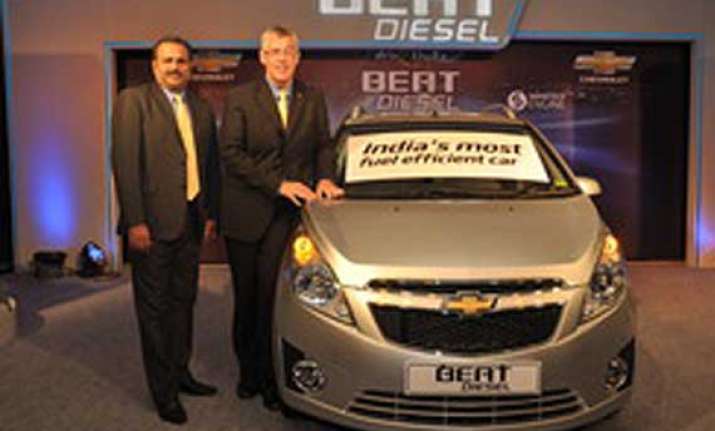 New Delhi, July 25: General Motors Co. on Monday introduced its smallest diesel engine globally to power the Chevrolet Beat small car in India, as the U.S.-based auto maker takes on competition for small diesel cars in this fast-growing automobile market, reports Wall Street Journal.

The 1.0-liter diesel engine has been developed by GM's engineers in Europe and modified to suit Indian driving conditions at the company's technical center in Bangalore, Karl Slym, president and managing director at GM India Pvt. Ltd. told a news conference.

GM India also sells a 1.2-liter gasoline Beat car.

Introducing the diesel hatchback will likely help GM to augment sales in Asia's third-largest automobile market where more people are preferring to buy diesel vehicles due to lower cost of the fuel.

Diesel costs 41.29 rupees ($0.93) per liter in New Delhi, compared with 63.70 rupees per liter for gasoline, according to the web site of fuel retailer Indian Oil Corp. The government controls diesel prices, while fuel-marketing companies can fix gasoline prices.

The Indian car market used to comprise 30% diesel vehicles and the rest gasoline-run ones, Mr. Slym said. "Of course, that has changed, all thanks to the pricing of fuel."

Most other car makers in India, including market leader Maruti Suzuki India Ltd., Tata Motors Ltd. and the local unit of Ford Motor Co., already sell diesel-powered small cars.

Ford's maiden small-car, Figo, helped the Michigan-based auto maker improve sales multifold in India, and nearly two-thirds of Figo's sales are from its diesel variant. Maruti sells its Swift and Ritz hatchbacks with diesel engines, while Tata Motors' flagship Indica is the cheapest car in the segment with prices starting at 395,453 rupees at showroom's in New Delhi.

The base model of the diesel Beat is priced 429,000 rupees at showrooms in New Delhi, while the top-end model will cost 545,000 rupees.

Mr. Slym said GM India plans to sell 4,000-5,000 units of the diesel car each month. The company now sells 2,700-3,000 gasoline Beats a month.

GM India also produces other vehicles under the Chevrolet brand, including the Spark and Aveo U-VA hatchbacks, the Optra and Aveo sedans, and the Tavera multi-utility vehicle.

It sold a record 110,804 cars in India in 2010, which it aims to increase to about 150,000 vehicles this year and 200,000 next year.

Mr. Slym said GM India is the sole producer of the new diesel engine and there are plans to export the engine to Europe.
He said also GM India plans to introduce five new vehicles in the next 18 months, including a hatchback. He declined to elaborate.