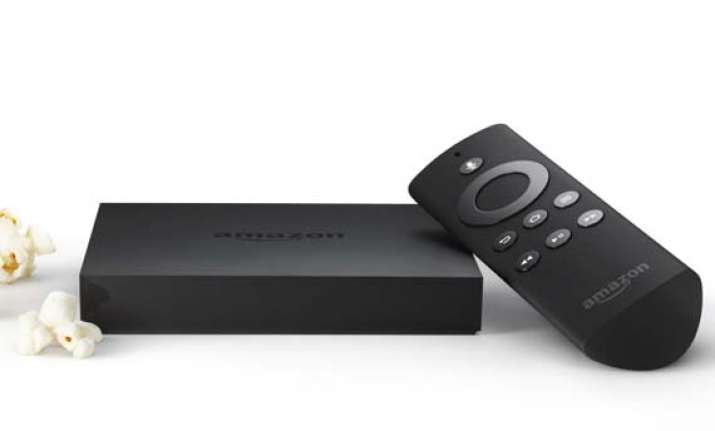 New Delhi: Amazon has launched an internet-connected TV set-top box, called the $99 Amazon Fire TV, as it vies with Apple and Google to gain a share of the lucrative television market.
The video streaming device is a small black box similar to Apple TV. It allows consumers to stream content from Amazon's library, as well other video-on-demand services, directly to their TVs. The device can also be used for gaming.
The device lets consumers watch Amazon's extensive video library as well as play a wide array of games on their television sets. The device is actually a black box that you plug into your TV that runs on an open Android ecosystem and comes with plenty of apps including Netflix, Pandora, Hulu Plus, Crackle, and more. However, it lacks HBO Go and Vudu. Regardless, you can either buy or rent shows right on the menu. It is a thin device that comes with a small black remote that works via Bluetooth.
In terms of performance, FireTV features a quad-core processor and 2GB of RAM, which Peter Larsen, vice president of Kindle devices, said should eliminate any hint of lag. Amazon claims it's three times faster than the latest set-top boxes from Roku and Apple.
In terms of interface, the Amazon video store is basically just scrolling through an endless barrage of movie posters presented in a moving 3D bar.
Amazon is also packing in some extras that take advantage of its other online services. A photos app will display all of the mobile shots you've backed up with Amazon Cloud Drive on your TV. Amazon has also built in a feature it calls ASAP, which "predicts which movies and TV episodes you'll want to watch and prepares them for playback before you even hit play."
Other prominent feature include a voice search function that allows users to say a name like George Clooney or a genre like horror and see results instantly pop up.
The Fire TV remote is small and compact and offers built in comprehensive parental controls.
Users can buy a games controller, dubbed Voila, which looks very similar to an Xbox controller. The firm has formed partnerships with gaming firms such as Sega, EA, Disney and promises thousands of Android titles will be available next month. It is also expanding Amazon Games Studios to build bespoke games.
The move puts Amazon in direct competition with Apple TV and Google's Chromecast as all try to find a way into the living room. In Amazon's vision, the television will be a supercharged home-shopping ecosystem, no matter what happens to be on.