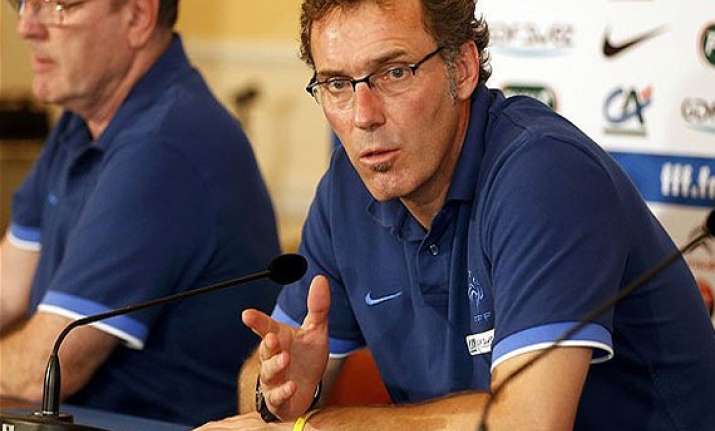 Ukraine, Jun 22:  France coach Laurent Blanc had to put preparations for Saturday's European Championship quarterfinal against Spain on hold as he dealt with the aftermath of the team's dressing-room bust-up following the Sweden defeat.
The manner of France's poor performance in the 2-0 loss to Sweden on Tuesday led to some heated exchanges between players, and a meeting took place the following day involving the whole squad to smooth things over.
"Yes, it took some time for this to subside," Blanc said Friday. "It held us back a bit, but there are priorities you have to deal with and they are more important than even the technical preparation of the match."
Still unhappy about that defeat, Blanc says there will "most probably" be changes against Spain in Donetsk—aside from the one enforced switch which sees Laurent Koscielny coming in at center half for Philippe Mexes, who is suspended.
"Spain are much superior to Sweden, technically speaking. We have to hope we don't repeat the mistakes from the Sweden game otherwise the punishment will be heavier," Blanc said.
"Spain are a long way ahead of us so we will probably have to adapt to their game. But adapting to their game does not mean negating our own strengths. We will try and choose a team that helps us to do both."
For the first time since Tuesday's woeful performance against Sweden, Blanc spoke
about his role in calming down the players as they argued with each other.
"You need to have a bit of serenity. But the behavior of some people means that you can't just let everything go, either," he said. "
You have to try and calm things down, but at the same time you need to say 'Lads, even though we played badly against Sweden, we have an exciting game coming up against Spain. Let's prepare for it."'
Blanc and his staff have done well to keep tempers in check in the days since the Sweden loss.
The bust-up gave the French media a field day as they started to draw ominous comparisons with the strife-torn conflict at the 2010 World Cup, where the team went on strike at training and shocked a nation.
"Troubles, God knows we have far, far, far too many in my opinion. But it's not easy, we know we're rebuilding, we know what we've come back from what we've experienced," Blanc said.
"It's true that there were two or three tensions in the dressing room, and you're scared of reliving a certain period in time that was difficult to handle. But angry reactions in the heat of the moment are never nice."
France captain Hugo Lloris is confident the players have moved on.
"It was important to get rid of those bad vibes," Lloris said. "Everyone has the right to speak. Certain people needed to express themselves. My job was to ensure it was done in a constructive way."
Unlike the World Cup debacle of two years ago, where France went home shame-faced, the players have a golden chance to put things right by pulling off what would be a major upset against the 2010 World Cup winners and reigning European champions.
"I'm not thinking about what I will say to motivate them. Honestly, for this match, I have nothing to say to them," Blanc said. "They'll be playing against the best team in the world with the two or three best players in the world in each position. If they can't get motivated for that ..."
Spain has never beaten France in six competitive matches, but all of those came before Spain's era of dominance, which started with victory at Euro 2008.
"The Spanish are very humble when they say that France is a good team, a dangerous team," Blanc said. "I don't know if they really think that, but in a way they must think that we have a few dangerous weapons. It's up to use them so that we cause them some trouble."
France welcomes back Yohan Cabaye against Spain. He was rested against Sweden as a precautionary measure because of a tight hamstring.
"You are aware of how much players like Yohan Cabaye bring to a team when they're not there," Blanc said. "Cabaye plays with a technical assurance which helps us, especially when we're bringing the ball out."