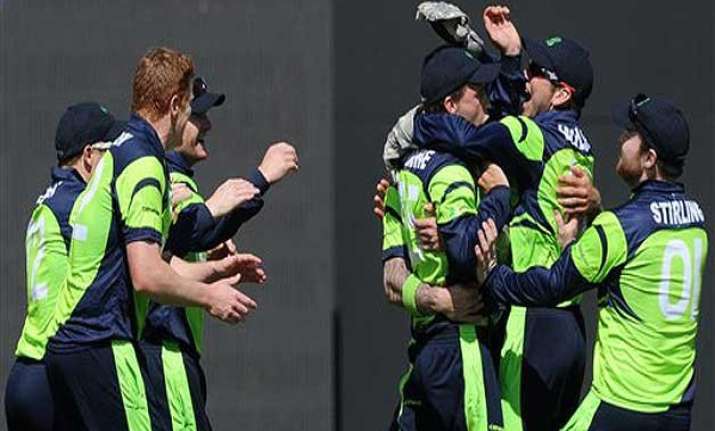 Brisbane, Australia: Gary Wilson struck 80 from 69 balls in a defiant late innings to help Ireland edge the United Arab Emirates by two wickets Wednesday in a World Cup match that was in the balance until the last over.
 In the unfamiliar position of being favorite in a World Cup match following its opening upset win over the West Indies, Ireland won the toss, sent the UAE in to bat and had them in trouble at 78-4 before Shaiman Anwar came to the rescue with 107 to lift the total to 278-9. 
"I was confident going out there," Wilson said. "It was obviously closer than we wanted it to be, definitely ... (but) we're two from two, that's all we could ask."
In the time since its opening four-wicket win on Feb. 16 at Nelson, New Zealand, Ireland was idle while the two-time champion West Indies rebounded with wins over Pakistan and Zimbabwe.
The UAE was the last of the 14 teams to get its Cup campaign underway, losing by four wickets to Zimbabwe last week after getting themselves into a strong position to win.
It was a similar plot for the UAE in Brisbane, where the group of part-timers and semi-professionals couldn't quite get across the line.
Anwar scored an ODI career-high 106 from 83 balls and shared a 107-run partnership with Amjad Javed, who hit 42 from 35 balls and later returned to take three wickets and a crucial catch.
William Porterfield (37) and Ed Joyce (37) put on 68 for the second wicket for Ireland, but had some luck along the way. Joyce got a massive reprieve when Javed beat him with a full in-swinging ball that grazed his off stump and moved but didn't dislodge the bail.
He was also dropped when he hit a sharp return chance to Mohammad Tauqir and was lucky not to be run out before he was eventually caught behind off Javed for 37.
"Sometimes the bails come off, sometimes they don't," Javed said. "I've seen that, but never with me."
The 43-year-old Tauqir bowled Porterfield and trapped Niall O'Brien (17) lbw before Andy Balbirnie and Wilson put on 74 to revive the chase. Then O'Brien went to the crease and dominated a 72-run stand in six overs with Wilson, lifting the tempo with a half century from 25 balls including eight boundaries and two giant, driven sixes before he was caught off Javed's bowling .
Javed said a dropped outfield catch let O'Brien off the hook on 24, which was costly for a UAE bowling attack already weakened with pacer Manjula Guruge restricted to seven overs due to cramps .
"We dropped a catch off Kevin when the run-rate was about 10 per over. That was a crucial time," he said. "If you're giving a chance to a Kevin O'Brien type player, he'll take the game away from you."
Wilson fell in the 48th over to a brilliant catch from Javed, leaving George Dockrell (7) and Alex Cusack to score the remaining 12 runs.The UAE was aiming for its second win at a World Cup, and first since a seven-wicket win over the Netherlands in 1996.
The UAE made a promising start with a 49-run opening stand between Amjad Ali (45) and Andri Berenger (13) before Stirling (2-27) took two wickets to slow it down.
Anwar, who led the scoring with 67 in UAE's opening loss to Zimbabwe, picked up the pace again with 10 fours and a six until he was caught out in the 49th over.
He was involved in an unusual episode the previous over when Kevin O'Brien, after disputing an umpire's call on a wide, stopped in his run-up twice as Anwar moved across the crease outside off stump to unsettle the bowler. Umpires intervened to calm things down, and O'Brien was later fined 30 percent of his match fee after admitting to showing dissent at a decision.