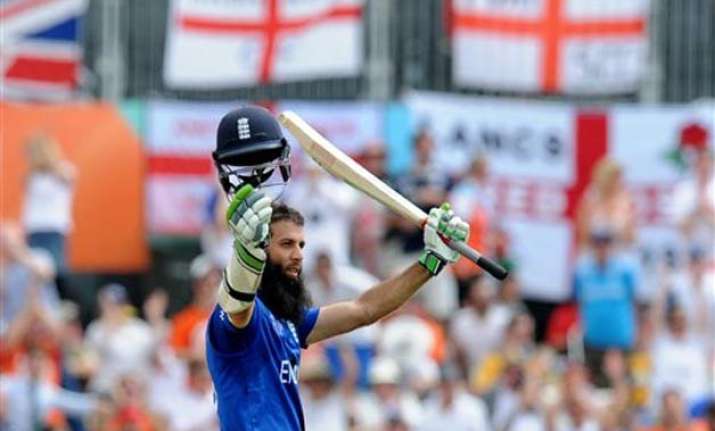 Christchurch, New Zealand: Moeen Ali scored 128 Monday as England tried to haul its Cricket World Cup campaign onto the rails after two demoralizing losses, posting 303-8 after batting first against Scotland in a Pool A match.
After losing to Australia by 111 runs and to New Zealand by eight wickets, England entered the match against Scotland shaken, apprehensive and desperate for a win to lessen the threat of an early tournament exit.
Second-tier team Scotland smelt blood and was equally determined to increase England's discomfort, even to beat a top-eight nation for the first time. But Ali and Ian Bell (54) steadied nerves and quieted Scotland's challenge in a 172-run opening partnership which spanned 30 overs and was England's largest for the first wicket in a World Cup match.
Despite the sound platform set by Ali and Bell, England showed its recent tendency to lose its way. It stumbled from 172-1 on Bell's dismissal to 203-4, losing Ali, Gary Ballance (10) and Joe Root (1) in the space of 10 balls — Ballance and Root in the first six balls of the batting powerplay.
James Taylor and Eoin Morgan put on 49 for the fifth wicket to mount a recovery before Taylor (17) was brilliantly stumped by Matt Cross, standing up to the medium pace of Josh Davey.
Morgan was out for 46 and England stumbled again, sneaking past 300 in the final over in which it lost two wickets.
Ali scored throughout the first 30 overs at exactly twice the rate of Bell — he was 108 when his opening partner was out for 54 — and set the early pace and tone of England's innings. His century, from 91 balls, was his second in 20 one-day internationals and he went on to post his highest score, 10 more than his previous best.
Ali has looked vulnerable against good pace bowling in bouncy conditions but was more composed against Scotland's medium pacers. He hit 12 fours and five sixes, 78 runs from boundaries, to give England's innings the sound platform it needed and which lessened the seriousness of another middle order failure.
England came into the match under pressure and heavy criticism fans and media. Scotland needed to use that pressure to its advantage and had the chance to do so when it won the toss and was able to bowl in overcast conditions which were likely to aid swing bowling.
But bowling is its weakness, despite the evidence of its opening match when it claimed seven New Zealand wickets in defending its total of 142.
Davey conceded 20 runs from his first two overs to release the pressure and to allow the England openers to relax into the match, but came back strongly in his later spells to finish with 4-68.
By the 15th over, England was 89 and the 100 partnership came in the 17th over, from 100 balls.
Bell scratched for runs in Ali's shadow but eventually reached a half century which contained only two boundaries from 80 balls in the 28th over. Ali reached his century only four balls later.