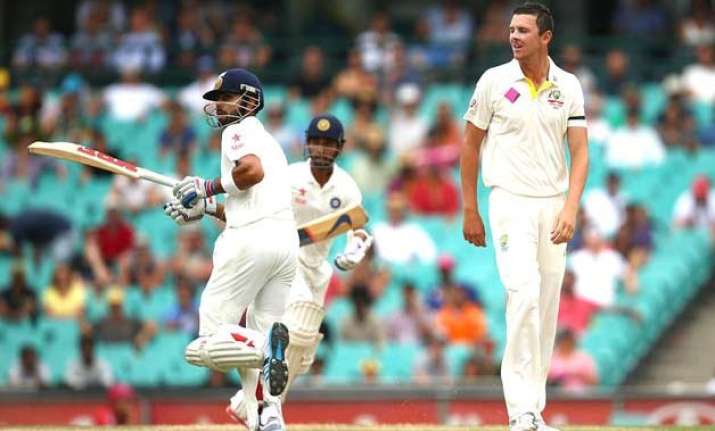 Sydney: The last day of last test in the series and India will be chasing a record score when they bat last at the Syndey Cricket Ground here Saturday.
Australia and India will meet once again at Melbourne Cricket Ground for the 2nd match of ODI Tri-series to follow on January 18.
Steven Smith has been declared as Man of the Match and Man of the Series for his 769 runs.
Once again, Vijay showed impeccable judgement outside off and scored his 5th fifty-plus score of the series, while also surpassing Sehwag's tally of 464 to record the most runs by an Indian opener in a Test series in Australia. However, both Vijay and Kohli, fell at a crucial juncture after tea to trigger off an Indian capitulation.
It's a first draw in 20 tests at SCG since 2004. The last was between the same opponents Australia and India when the visitors scored 705 in first innings with Sachin Tendulkar's 241.
Virat Kohli comes out and hugs Kumar. The Indian captain takes a stump as a souvenir. India endured another mini collapse, losing 4 wickets for 30 runs, but the lower-order rallied in the company of Rahane to salvage a draw.
Australia wins the Border-Gavaskar trophy by 2-0
MATCH DRAWN
India 252/7 after 89.5 overs (97 runs to win)
Rahane 38 (88), Bhuvneshwar 20 (30)
Bhuvneshwar and Rahane have batted for almost an hour together to finally salvage a draw for India. The visitors would be much happy with that result despite losing the series 0-2. These two built a solid 35 runs stand in a match saving effort. Bhuvneshar smashed Lyon for a boundary as Smith shakes hands with Kumar and then with Rahane with a ball to spare.
India 234/7 after 85 overs (115 runs to win)
Rahane 33 (72), Bhuvneshwar 7 (17)
Bhuvi and Rahane are battling it out there for a draw and so far they are successful. Australia made no good use of the second new ball taken.
Second new ball has been taken by Australia. Mitchell Starc to bowl the first over
India 219/7 after 80 overs (130 runs to win)
Rahane 23 (55), Bhuvneshwar 2 (4)
India are struggling here. For them, a draw now becomes a priority as a win looks too far fetched an idea. It has been another disastrous performance from the lower middle order. Raina departed for a duck and so did Saha. Now, the onus is on Rahane and Bhuvi to see the remaining overs out.
Bhuvneshwar Kumar comes in at no. 9
India 217/7
Ravichandran Ashwin lbw b Hazlewood 1 (22)
OUT! Loud appeal for lbw and gone! The ball came in to Ashwin and umpire raises his finger.
DRINKS BREAK
India 215/6 after 75 overs (134 runs to win)
Rahane 22 (39), Ashwin 0 (12)
India lost 4 wickets in the space of 30 runs, another collapse for the Indians. From a position of strength, they have thrown it away yet again. Bringing in Raina doesn't worked out for the skipper. This is the last recognized batting pair and they must now hang around for a draw.
Ravichandran Ashwin comes in at no. 8
India 208/6
Wriddhiman Saha lbw b Lyon 0 (6)
OUT! What a delivery by Lyon. The flighted delivery kept low and struck right at the bottom of Saha's pads. India are in deep trouble now.
India 204/5 after 70 overs (145 runs to win)
Rahane 13 (22), Saha 0 (5)
Two quick wickets of Kohli and Raina will definitely hamper India's hopes of chasing this down. They will probably play for a draw from here but they should not lose it. Batsmen are now living dangerously out there. Raina was troubled too by Starc with the in-swing deliveries. From 178/3, India are now down to 204/5.
Wriddhiman Saha is the new man in
India 203/5
Suresh Raina lbw b Starc 0 (3)
OUT! Appeal for lbw and another wicket for Starc. Raina was struggling with incoming deliveries and yet another failure for him. He was plumbed right in front of stumps. Umpire had no doubt and raises his finger. Is this the starting of batting collapse?
India 201/4
Virat Kohli c Watson b Starc 46 (95)
OUT! Starc strikes! Kohli is a goner. Pitched way outside off stump, Kohli tried to play it wide but gets a thick outside edge Watson at slips. He missed his 4th consecutive 50+ plus total by just 4 runs.
India 193/3 after 65 overs (156 runs to win)
Kohli 39 (85), Rahane 9 (10)
The Vijay-Kohli duo was well settled with a partnership of 74 runs until Vijay was dimissed by Hazlewood off an outside edge to Haddin at the score of 80. Rahane joined the skipper in the middle who is looking great out there.
Ajinkya Rahane is the new man in
India 178/3
Murali Vijay c Haddin b Hazlewood 80 (165)
OUT! Murali Vijay has fallen. Length delivery outside off by Hazlewood, Vijay gets a big outside edge and Haddin does the rest. He was into his 80s. Wicket at a wrong time for India.
Watson to bowl first after tea. Kohli on strike
Players are back on the field.
------------------------------------
They need to bat first 15 overs defensively and safely without losing a wicket and must take the attack to the hosts afterwards.
The same pair was batting at tea in Adelaide, where India needed 159 in the last session. They did go for it there, and went down in the process.
Despite going for runs, Lyon has sustained turn and bounce, much like how Ashwin operated on day 4.
Rohit and Vijay rebuilt the innings steadily until Steve Smith pulled off a blinding catch, diving to his right at slip, to remove the former for 39. Then Vijay got to his fifty and has exhibited more positive intent since then, often using his feet to put off Lyon. Kohli though is the key for the visitors if they are to force a victory from here.
The final session has been wonderfully set up. India need 189 runs in 33 overs to pull off a stunning win. Australia need 8 wickets. All three results are still possible at the SCG.
TEA BREAK
India 160/2 after 57 overs (189 runs to win)
Vijay 71 (156), Kohli 26 (56)
Murali Vijay completed his half-century in 135 balls after spending more than three hours of time in a match saving effort for India. He has opened his hands against Lyon and struck two boundaries and a six off his over and they now share the partnership of 50 runs to drive India through the second session.
India 131/2 after 50 overs (218 runs to win)
Vijay 48 (131), Kohli 20 (39)
Murali Vijay and Virat Kohli are battling it out safe for India in the second session of the day. Kohli is once again looking in good touch and Vijay who has been unsuccessfully trying to play some reverse sweeps is scoring a single in almost every 15 deliveries.
India 110/2 after 40 overs (239 runs to win)
Vijay 46 (104), Kohli 6 (6)
The Vijay-Rohit was above the half-century mark when Steven Smith pulled off a stunner at slips, diving to his right to dismiss Rohit Sharma. Murali Vijay luckily survived an lbw appeal by Hazlewood after an in-swing delivery struck on pads straight but umpire ignored. However the hawk-eye shows that the ball was hitting the leg stump.
Virat Kohli is the next man in
India 104/2
Rohit Sharma c Smith b Watson 39 (90)
OUT! Watson strikes. Outside edge and what a catch taken by Smith at slips diving high to his right. That was a lazy shot by Rohit Sharma.
India 86/1 after 35 overs (263 runs to win)
Vijay 38 (92), Rohit 29 (78)
Rohit is looking well settled in a decent partnership which is being developed between him and Vijay. He is targeting Lyon's poor deliveries for big hits. Ryan Harris also had a beautiful spell giving the batsmen nothing to score.
Lyon to start off and Vijay has the strike
The umpires walking in and Australian players are warming up a bit in the ground. Murali Vijay and Rohit Sharma are in the middle as well. So the second session is set to begin.
----------------------------------
Rohit Sharma and Vijay looked very tentative. Kohli, Rahane and Raina must step up further if India are to go for the target. Lyon who has picked up just 3 wickets in this match is hungry for more.
The second session will be crucial as there are chances of rain in the afternoon and if it happens, it can only benefit to India. But it is going to be an exciting finish.
Rohit came on and escaped a very close stumping call off the first ball and since then Australia turned on the squeeze. India took 40 balls to score a run as Hazlewood bowled a tight line, helping Lyon to attack more. Vijay and Rohit survived a few close moments and managed to carry their bats to lunch. It is a bit gloomy out there, but the pitch is doing its bit every now and then.
It was an interesting session of play. India won most of the first hour, but Australia controlled things nicely after the dismissal of Rahul. They bowled as many as five consecutive maiden overs during that phase, putting the brakes on the scoring rate. Both Vijay and Rahul batted cautiously at the start, but once Lyon came on after 5 overs, they played their shots and took the attack to the off-spinner.
LUNCH BREAK
India 73/1 after 29 overs (276 runs to win)
Vijay 35 (77), Rohit 19 (57)
Rohit and Vijay have safely driven India through the first session after the wicket of Lokesh Rahul. The duo are not scoring much runs but are well settled at the crease. Lyon's spin has troubled them a bit but they played them well.
India 64/1 after 25 overs (285 runs to win)
Vijay 32 (69), Rohit 13 (41)
Nothing much by the batsmen in last 20 minutes of play except for a six and a four by Rohit Sharma of Lyon's over. The scoring rate is just above 2 rpo.
India 51/1 after 20 overs (298 runs to win)
Vijay 31 (59), Rohit 1 (21)
Bowlers have really kept tight for the bowlers. Four maidens in five overs, 5th on the trot has pegged India back after a good start by the openers. A couple of missed chances by the keeper Haddin can cost them later.
India 48/1 after 15 overs (301 runs to win)
Vijay 29 (46), Rohit 0 (4)
Early strike for Australia right when Indian openers Rahul and Vijay were off to a steady start. Lyon with his flighted delivery forced Rahul to defend but the ball flies to leg slip after getting a touch off gloves. Rohit too survived a stumping chance. It is clear that the batsmen are struggling out there against the spin.
OUT! or is it? Players appealed for a stumping against Rohit in the very first ball he faced. It was a flighted delivery well outside off stump, Rohit lunges forward to defend, he loses balance and just lifts his back foot in the air when Haddin whipped off the bails. He survived!
Rohit Sharma is the new man in
India 48/1
Lokesh Rahul c Warner b Lyon 16 (40)
OUT! Lyon strikes first. Turn and bounce for him. Rahul tried to defend and the ball touches his gloves and went straight to Warner at leg slip. Umpire Dharmsena has no doubt in mind to raise the finger.
India 33/0 after 10 overs (316 runs to win)
Vijay 28 (37), Rahul 4 (23)
Murali Vijay struck two boundaries and a six off Nathan Lyon putting him under pressure. Good start for India against the spin. He was dropped by Haddin behind the stumps off Lyon's off-break getting a small outside edge.
India 5/0 after 5 overs (344 runs to win)
Vijay 1 (16), Rahul 4 (14)
A quite start by the Indian openers here. India got off the mark with a boundary by Lokesh Rahul down the ground off Ryan Harris. Starc is getting the ball reverse swing and with Lyon's spin later, there will be problems all around  for India.
Mitchell Starc has the new ball and Vijay takes the strike
So the Australian players are making their way out and so are Indian openers Murali Vijay and Lokesh Rahul
Today's pitch report suggests that the rough spots in the pitch would definitely help Lyon to spin the ball and cause problems to the Indian batsmen. It is very difficult to score a 350 plus total on this kind of pitch. All the visitors need to do is try and repeat what they did in Adelaide except losing a match.
There is a forecast of rain as well later in the day.
The news coming in that Australia have declared at their overnight score of 251/6. This means India would come out to bat today for a record chase of 349 runs in 90 overs.
If Australia declares overnight a record run-chase of around 350 for India is not out of the question particularly with the way Kohli is batting.
With a lead of 348 and the kind of help spinners are getting from the pitch, the chances of overnight declaration by Australia cannot be ruled out. Lyon will be Australia's key towards forcing a win and wrapping up the series 3-0.
For India, the bowling was all about Ashwin. The bowling from the pacers was tripe - they continued to leak runs from one end, putting too much pressure on Ashwin. It will be a question of survival for the visitors. Or will Kohli inspire his troops to attack the target like he did in Adelaide?
Australians have amassed 251 runs in 40 overs in their second innings with the loss of 6 wickets. It seems like they are all set for the approaching Tri-series and World Cup with the kind of batting their batsmen are showing.