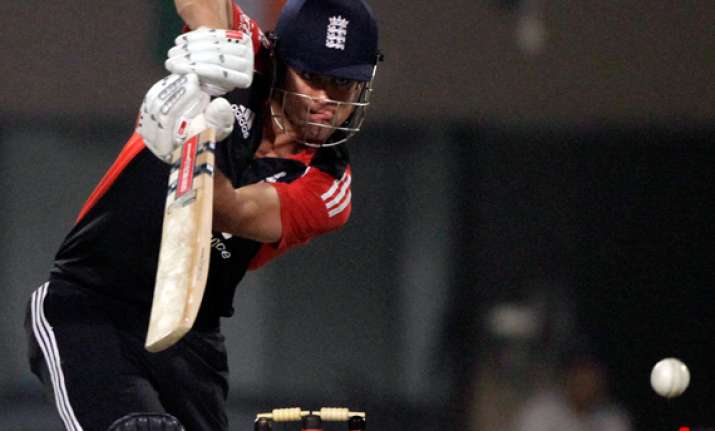 Kolkata, Oct 26: After their stunning collapse to lose the one-day series 0-5 against India, England skipper Alastair Cook blamed the defeat on their poor batting, saying they did well as a bowling unit.

Bundled out from 129/1 to 176 all out in the final match in Kolkata on Tuesday, the England batting fell like nine-pins against the Indian spinners' guile to lose the fifth ODI by 95 runs.

Cook appeared surprised by yet another meek submission by their batsmen.

"It's really a bit of shocker. Incredible. We have not batted well in the entire tour. Not sure why, may be due to inexperience Batting is one of the main reasons why we lost many games," Cook said. "We batted really badly. We looked set for win after being 129 without loss. But we lost too many wickets quickly, as it happened in every game."

He said the ball did not come easily to the bat as it does in England. "Someone needed to play really well. Once you begin losing wickets, it is not easy to stem the rot."

Cook named Virat Kohli, Suresh Raina and Mahendra Singh Dhoni as India's stand-out performers.

England had lost the series by the same scoreline the last time they toured India, in 2008. Cook, however, said this time around, they were a bit short on experience in Indian conditions.

"Not many of us have played here. The ball does not come quite well in these conditions. Winning is a habit and losing is also a habit. When the confidence is not so high, it's not easy."

"India's confidence is high. They are playing some decent cricket and it's hard to stop them."

But Cook praised his bowlers and said lanky pacer Steven Finn had been the find of the series.

"We bowled really well again. The way we kept trying has been impressive. The credit goes to our bowlers."

"Morale can't be as high when you lose. But the past is past. Be it five or 10 games. We came a lot way short. A lot of these guys toured India for the first time. It's a first experience to these conditions."

"We played some decent cricket. We struggled in their conditions, they struggled in our conditions. It's tough as a captain. When you lose you take fair bit of responsibility. I can't ignore the way players played in this tour."

On the poor turnout at the matches, Cook said too much of India-England cricket may be the reason.

"Seemingly for a long time we are playing each other, people must have been bored."

"It's been a fantastic year for English cricket. But obviously a disappointing end to what's been a good year. It was a great experience for youngsters. They need to improve and we all need to improve. Finn has been outstanding bowler. He has been our stand- out performer in this series. In big picture, we had an inexperienced players. But there are positives to take from the series," he added.