Follow us on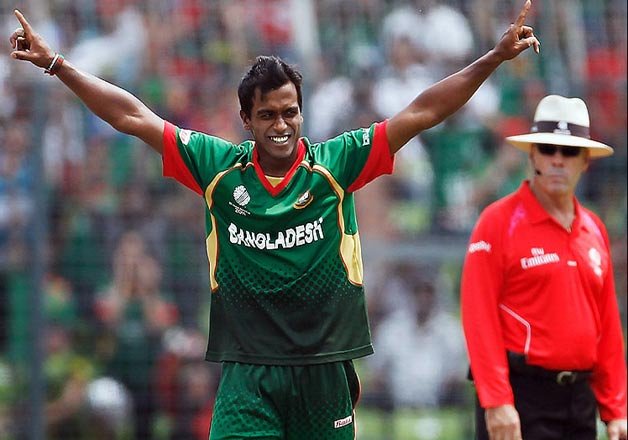 Dhaka: A Dhaka court has sent Bangladesh cricketer Rubel Hossain to jail after rejecting his bail plea in a breach of promise case under the Women's Repression Act filed by Bengali starlet Naznin Akter Happy.
Dhaka Metropolitan Magistrate issued the order after almost an hour-long hearing Thursday, reports bdnews24.com.
Rubel, who is in the Bangladesh squad for the forthcoming World Cup, surrendered in the Dhaka Chief Metropolitan Magistrate's Court and appealed for bail Thursday morning -- three days before his anticipatory bail was to expire.
Barrister Maniruzzaman Asad represented Rubel while lawyer Abdullah Al Mansur Ripon represented the model-cum-film actress at the court.
The judge rejected Rubel's bail plea and sent him to prison. Rubel's lawyer Maniruzzaman Asad said an appeal will be filed seeking a review of the order.
Happy filed a case against Rubel under the Women's Repression Act Dec 13, last year, alleging that the pacer backed off from his promise of marriage after nine months of an intimate relationship.
Rubel, in a court appearance Dec 15, had filed for anticipatory bail and the court granted a four-week bail -- which was to end Sunday.
Rubel has alleged that Happy was 'blackmailing' him. Happy underwent a medical test that suggested Rubel did not force her to sleep with him.
The court ordered a DNA test of Rubel last Dec 31 taking cognisance of an appeal filed by Mirpur Police Sub-Inspector (Investigation) Md. Masud Parvez.
Happy claimed that the two got in touch first on Facebook.
Happy, who studies for BBA at a private university, acted in a recent Bengali film and more films starring her are in the pipeline.
She alleged that Rubel got involved with another girl while their marriage was being negotiated. She lodged the complaint against him when he allegedly started avoiding her.
Happy filed a writ petition Jan 5 seeking Rubel's expulsion from the Bangladesh team.
The court threw out her petition and Happy said she would file a case against the scrapping.
The Bangladesh team will fly off in January-end to Australia for the World Cup starting Feb 14.