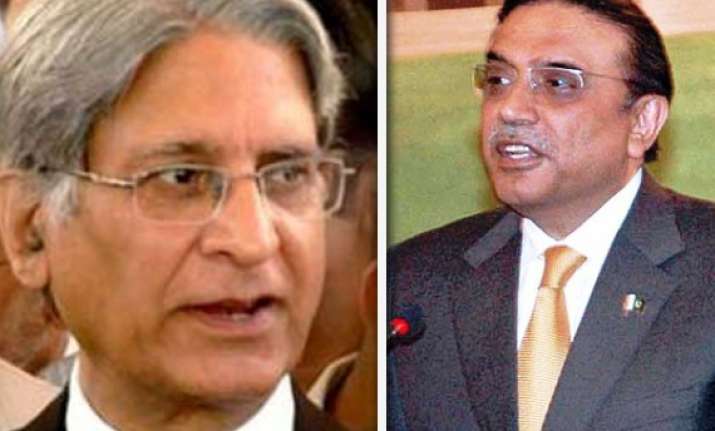 Islamabad, Dec 28: Pakistan's embattled President Asif Ali Zardari has asked former minister Aitzaz Ahsan to act as a mentor to his son Bilawal if "anything were to happen to him," sources said, amid reports that the outspoken PPP leader is being tipped as a likely replacement for Premier Yousuf Raza Gilani.

Zardari had reached out to Ahsan, one of Pakistan's leading lawyers and former Interior Minister, after he became embroiled in the controversy over a secret memo that sought US help to stave off a possible coup in Pakistan following the killing of Osama bin Laden.

During a long phone conversation with Ahsan while he was in Dubai to seek treatment for a heart condition, Zardari had asked the Cambridge-educated lawyer to act as a mentor to his 23-year-old son Bilawal if "anything were to happen to him," senior PPP officials and other sources told PTI.

Zardari's decision to ask Ahsan to speak after him at a massive rally yesterday too has triggered speculation that Ahsan may be given a key position in the government.

The President was expected to be the main speaker at a public meeting organised by the PPP at Garhi Khuda Baksh in Sindh to mark the death anniversary of his wife, former Premier Benazir Bhutto.

Zardari took everyone by surprise by effusively praising Ahsan and asking him to deliver the final speech.  Reports in a section of the media said that Ahsan was being tipped as a likely replacement for Premier Gilani.  One report quoted an unnamed presidential aide as saying that the possibility of replacing Gilani with Ahsan was being considered "as a serious option".

Ahsan denied that he was being considered for the post of Premier. "You have to be (a Parliamentarian) to be Prime Minister," he told The News.

Though Ahsan acknowledged that he could be elected to Parliament through a bye-poll, he questioned why anyone would do so "for such a short term".

The current National Assembly's term ends in early 2013.

Analysts also noted that Zardari had made it clear in his speech yesterday that politics had been left to Gilani and his team and that the Prime Minister was the chief executive. This, they said, was an indication that Gilani was unlikely to be replaced immediately.

Sources said the pressure on the President from military over the memogate scandal had forced Zardari to re-evaluate his options regarding the future of both the PPP and Bilawal.

It was in this context that he asked Ahsan to play a role in guiding Bilawal, the Chairman of the PPP, the sources said.

Zardari's abrupt visit to Dubai earlier this month and his stay there for almost a fortnight fuelled speculation that he might be forced out of the presidency by the military.

Tensions between the government and the military have continued as the two sides have adopted divergent stands in the Supreme Court on the need for a probe into the memo issue.

Ahsan played an important role in the PPP's affairs in the months before Benazir Bhutto returned to Pakistan from self-exile in October 2007. However, his proximity to the lawyers' movement that campaigned for restoration of judges sacked by ex-military ruler Pervez Musharraf led to him being sidelined by Zardari after he became President in 2008.

Zardari delayed on restoring the sacked judges, including Supreme Court Chief Justice Iftikhar Chaudhry, till the PML-N launched a massive countrywide protest in March 2009.

Ahsan's outspoken support to the judges led to his estrangement from Zardari and his aides.

During his stint as Interior Minister in Benazir Bhutto's government in the late 1980s, Ahsan had shared with Indian authorities a list of Sikh terrorists involved in the Khalistan movement.