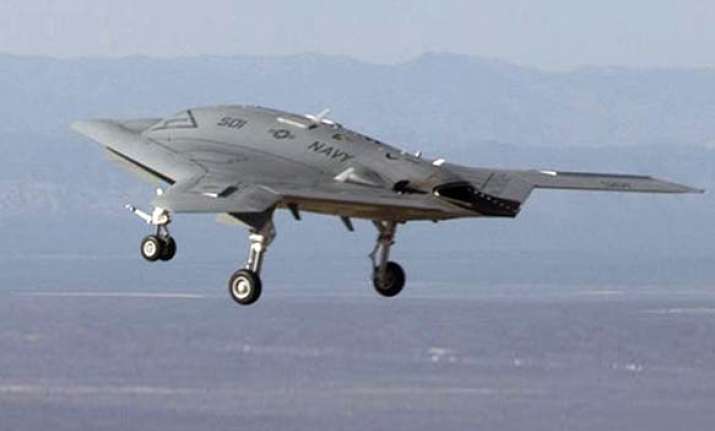 United States' latest weapon,  X-47B, an unmanned stealth bomber, successfully completed its first test - a 29 minute fly by over Edwards Air Force Base on Friday.
If the project is successful, it would mark a major evolution in the history of combat aviation.
If it works as advertised, it could signal the end for the need to send human fighter pilots into combat.
However, more test flights the X-47B are scheduled and it's yet unclear when the strike fighter might enter production.
In the meantime, where's clear is that this is a first-class piece of technology.
The six-year $635.8 million project is slated for completion by 2013. If you want to geek out, here's the Northrup Grumman spec sheet.
Also, Fast Company offers a primer on the craft and its place in the history of "flying wing research."
The X-47B, designed as a flying wedge," is all but invisible to radar, and hard to lock on to with infrared missiles.
It's capable of taking off automatically, flying to a location by itself, scanning the scene with a variety of sensors, and then--when commanded to do so by remote pilots--dropping precision-guided weapons on a target, before flying home to an air base or an aircraft carrier."
Five Facts :
1.
No need for pit stops
One of the most impressive features of the X-47B is without question the aircraft's "autonomous aerial refuelling" capability, which allows the aircraft to refuel in midflight.
2. It's another step in the "top guns" as "gamer geeks" direction
According to  Fast Company's Kit Eaton:
Technically the X-47B is an unmanned combat air vehicle (UCAV), but what it really is is an evolution of those Global Hawk and Predator drone aircraft that made the Iraq War look like a computer game when viewed at the military's tech hubs, mixed in with the same kind of stealth technology that makes the B-2 Spirit bomber such a powerful, frightening tool of force projection.
3. It's an evolution of the B2 stealth bomber
It's shape makes the X-47B the "stealthiest unmanned system ever," according to the Military Channel.
4. It's an investment
In August 2007,  the US Navy awarded aerospace and defense technology company Northrop Grumman the $636 million contract to develop and manufacture the unmanned aircraft. The project is scheduled for completion by 2013.
5. There are many more test runs to come
Military officials are expected to carry out more than 50 more test flights from Edwards Air Force Base.