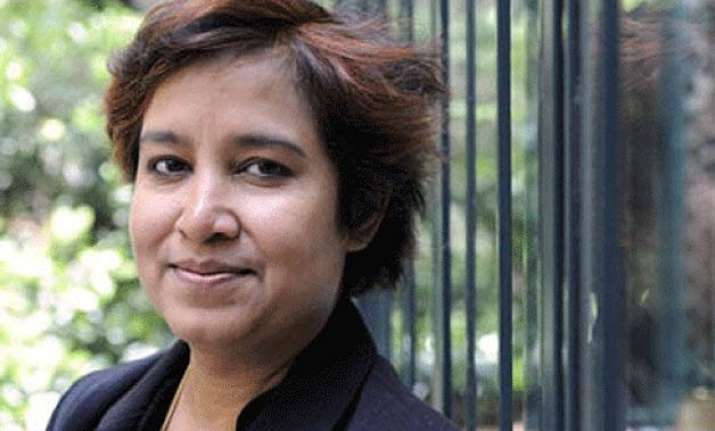 New Delhi:  Bengali writer Taslima Nasreen, staying in exile in India, has lashed out at the Bangladesh government for its attitude towards serial killings of "free-thinker" bloggers.
"There is no democracy in Bangldesh, it's idiocracy", writes Taslima on Facebook. "One blogger gets threats, 10 other bloggers stop blogging. One blogger is axed to death, 100 other bloggers stop writing blogs. The Age of Reason in Bangladesh seems to be coming to an end soon."
The writer also laments the lack of support from other writers, scientists and intellectuals for the bloggers facing death threats from Islamic fundamentalists.  "I remember 22 years ago, not many people were with me. At that time, I was alone versus the entire country including the useless government. Lakhs of fundamentalists took to the streets demanding my head. Instead of standing by me, the government filed case against me.
"There was no IT Act in those days, but Sec 295-A of Penal Code was sufficient to kill a writer. Only a handful of intellectuals stood by me, that too secretly, which mattered little. Had there been nationwide protests against Islamic terrorists and had even 500 people stood for my freedom of speech, nobody would have dared to throw me out of my country.
"I see the same old time returning after two decades. Even now there is no protest against the killing of progressive bloggers. People are hiding in their holes like rats, even  those who are considered as educated intellectuals. The stupid government is trying to fool the people through clever means."
Taslima further writes: "Rational free thinkers are being eliminated in Bangladesh in a planned manner. The killers even describe who they are, their names and the group they belong to. I don't know whether they even give their phone numbers, but the police does not touch them.
"First they used to kill on roads, later in the darkness of night, and now they kill in broad daylight after breaking into homes. The killers now run away after killing, but the day will soon come, when they will not run, they will do their act in front of all, and then walk away laughing. Nobody will stop them.
"We are going to witness such dreadful days soon. Not only bloggers, even women who do not wear burqa will also be targeted, lovers who sit in secluded places will also be axed to death".
An angry Taslima hit out at Bangladesh Inspector General of Police Shahidul Haque for saying that bloggers will be punished  if they cross the limit by hurting the religious feelings of people through their writings.
The maximum punishment for hurting religious sentiment in Bangladesh is 14 years jail sentence under the Penal Code and ICT Act.
Bangladesh has witnessed a series of brutal killings of free-thinker bloggers by Islamic fundamentalists belonging to Ansar Al Bangla group. On Saturday, a blogger Niloy Neel was hacked to death inside his flat in Dhaka.
The IGP has said that in the murder case of blogger Avijit Roy, the killers have been identified, but police do not have info about their location.
 In the case of murder of blogger Oyasiqur Rahman Babu, he has said, a chargesheet will be brought soon.  Similarly, in Rabiul and Rakib murder cases, police will submit chargesheets this month, but in the Rajon murder case, the main accused is hiding in Saudi Arabia, Haque said.