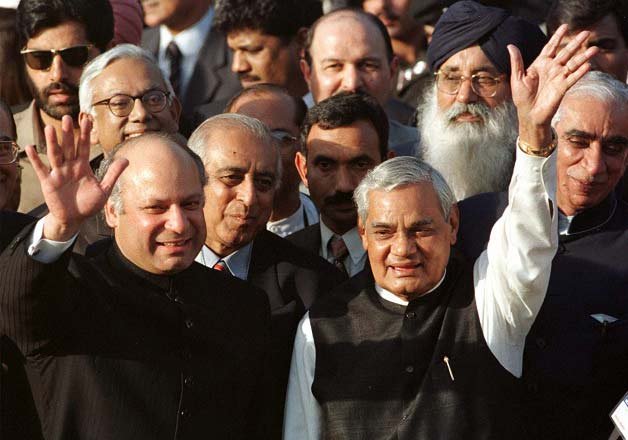 New Delhi: In an unlikely admission of guilt that appears to be directed towards shifting the blame to former Pakistan Army chief Parvez Musharraf, Pakistan's Prime Minister Nawaz Sharif today conceded that the intrusion by Pakistani soldiers in Kargil in 1999 was a "misadventure" and a "stab in the back for then Prime Minister Atal Bihari Vajpayee".
Notably, it was in February 1999 that Vajpayee undertook a historic visit to Lahore on Sharif's invitation. The two premieres had signed the Lahore Declaration, a bilateral agreement and governance treaty between India and Pakistan.
Addressing a rally in Pakistan's Muzaffarabad, Sharif recollected how Vajpayee had told him that he considered Pakistan's intrusion in Kargil as a stab in the back.
"Vajpayee told me he was stabbed in the back because of Pakistan's misadventure in Kargil, especially during the process of Lahore Declaration," he said.
Sharif then conceded that there was actually nothing wrong in what Vajpayee had said. "Vajpayee was right. I would have said the same thing - he was certainly backstabbed," he said.
In comments that both appear to be an attempt to move on as well as one where he shifts the blame on Pervez Musharraf, Sharif said that there was no one could have complained to at the time.
"But, who do I complain to about that now. We [India and Pakistan] pray to the same God," he stated.
Sharif also spoke about how alike the people of the two countries are, and even cherished the same delicacies. "People of India and Pakistan are alike, except for the border in between. We both cherish Aloo Gosht delicacy," he added.
Sharif's admission also comes at a time when India and Pakistan have witnessed several ups and downs over its attempts to restart a stalled peace process and solve contentious issues through dialogue.
The Pathankot attack and the 26/11 attack in Mumbai has led to global condemnation for Pakistan's inability to act against the perpetrators of terrorism emanating from its soil. Whether this was an honest confession by Sharif or a move directed elsewhere remains unclear at the moment.