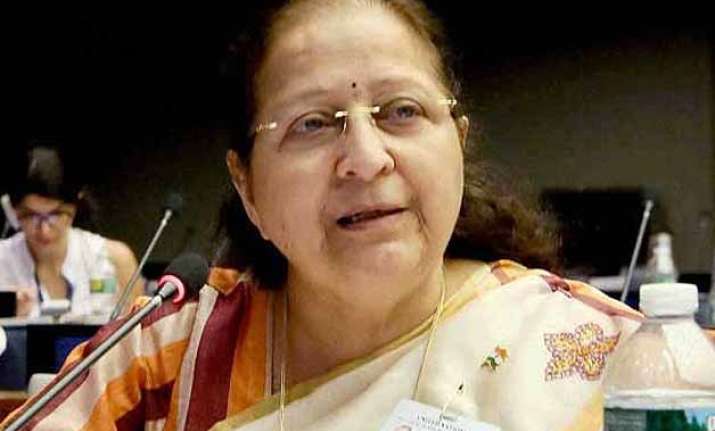 United Nations:  India has strongly rejected Pakistan's call for plebiscite in Jammu and Kashmir, asserting that the state is an integral part of the country and its citizens have chosen a democratically-elected government.
"Pakistan must know that this platform is the Inter-Parliamentary Union platform and a forum where the 2030 development agenda is discussed,"?Lok Sabha Speaker Sumitra Mahajan told PTI here yesterday.
Her remarks came a day after Pakistan National Assembly's Acting Speaker Murtaza Javed Abbasi in his speech to the Fourth World Conference of Speakers said that "it is time" to enable the people of Jammu and Kashmir to exercise their right to self-determination.
Mahajan strongly rejected Pakistan's move to raise the issue of Kashmir on a platform focussed on the global development agenda, saying the remarks are "totally irrelevant" and Islamabad must concentrate on development.
"Jammu and Kashmir is an integrated part and parcel of India since independence. Democratically elections are held in the state," she said.
"Pakistan should keep in mind that elections take place in Jammu and Kashmir and its people participate in a democratic process to elect their state government. There is an elected?government?there. What can be more democratic than this," she said, rejecting Pakistan's call for a plebiscite.
"Why Pakistan is raising the issue in each platform. This is not the platform for it, this is not an issue now. The agenda here is the 2030 sustainable development goals. There is no relevancy at all (for raising Kashmir) here," she said.
She said Pakistan is trying to make an issue out of a non-issue by bringing up Kashmir at every platform of the UN.
"They are ignoring the realities on the ground. This (Kashmir) is not an issue for the UN...They are making a non-issue an issue but they will not get success," she said.
Mahajan said elections have been held in the state for the past many years. She emphasised that the state had witnessed the highest voter turnout in over two decades in the assembly elections last year, with an estimated 66 per cent electorate voting in 20?constituencies.
She also pointed out that the Commonwealth Parliamentary Association conference in Islamabad was cancelled because Pakistan had not?invited the Jammu and Kashmir Legislative Speaker, which she said "is against the rules" of the body.
"They are not focussed on development. They are not thinking about their citizens and how development should take place in Pakistan. But instead every now and then they try to raise only one issue. They don't have the right thinking," Mahajan said.