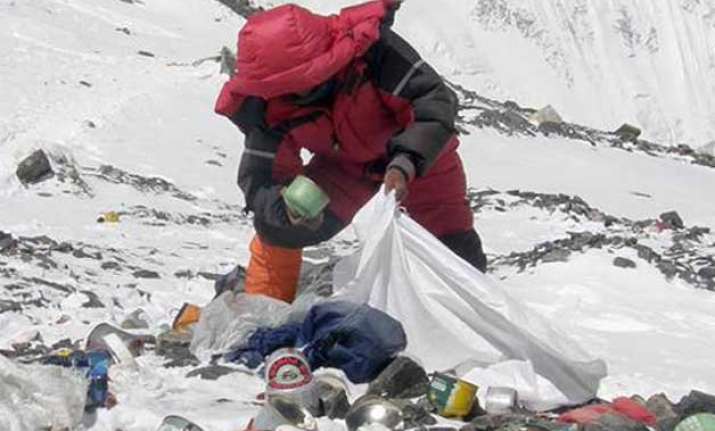 Kathmandu: Climbers and guides who spend nearly two months on Everest's slopes each climbing season have left a lot of trash and human waste, causing pollution and threatening to spread disease.
More than 700 climbers and guides who embark on the dangerous mountaineering adventure every season have left large amounts of feces and urine on the mountain, said president of Nepal Mountaineering Association Ang Tshering. He said Nepal's government needs to get the climbers to dispose of the waste properly so the mountain remains pristine.
At the base camp, where there are more porters, cooks and support staff during the climbing season, there are toilet tents with drums to store the waste. Once filled, the drums are carried to a lower area, for its proper disposal.
Hundreds of foreign climbers attempt to scale Everest during Nepal's mountaineering season, which began this week and runs through May. Last year's season was canceled after 16 local guides were killed in an avalanche in April.
Climbers spend weeks acclimatizing around the four camps set up between the base camp at 5,300m and the 8,850m high summit. The camps have tents and supplies but no toilets.
Puspa Raj Katuwal, the head of the government's Mountaineering Department, said the Nepalese Government has yet to develop a strategy for tackling the amount of human waste left by climbers.
However, the government has imposed new rules last year requiring each climber to bring down to the base camp 8 kilograms (18 pounds) of trash — the amount it estimates a climber discards along the route.
With inputs from AP