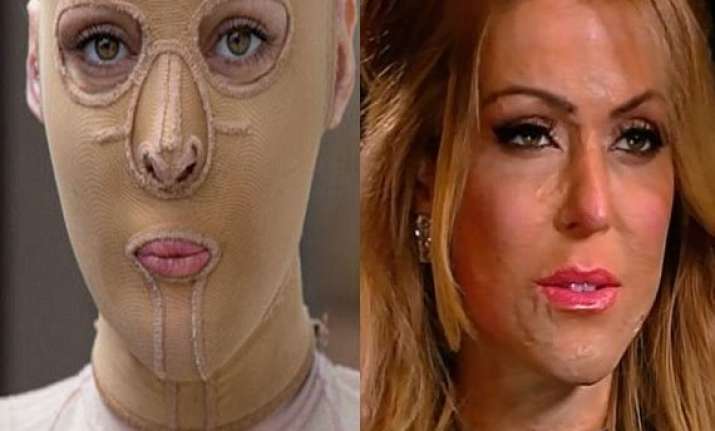 What if you wake up one fine morning and see that you have 'no face'?
How would you feel? It is scary even to imagine! Isn't it?
But, an Australian woman named Dana Vulin had been enduring this trauma, since last two and a half years after she was set alight by a woman on February 16, 2012.
On Sunday, Miss Dana Vulin revealed her new face to the world. As she took the mask off to showcase her miraculous transformation, an incredible shine of courage and determination was shining on her beautiful face.
'If I could turn back time and not be burnt or had the chance to not have my scars of course I would take it but if someone were to ask me how i feel about my body - I am damn proud of it,' she said.
Read her incredible story...
Attacker Natalie Dimitrovska, the jealous estranged wife of a man named Edin, who Ms Vulin had met at a New Year's Eve party. Natalie doused Dana in methylated spirit; leaving her to die at Dana's Perth home on February 16, 2012.
Luckily, Vulin survived but suffered third-degree burns to around two-third of her entire body majorly covering her upper torso.
For the inhumane attack, Natalie Dimitrovska was sentenced to 17 years of jail on October 11, 2011. Perth Judge Bruce Goetze charged her, for intentionally causing grievous bodily harm to Dana Vulin.
After the horrific incident, Ms Vulin suffered agonizing pain from her burns and has been forced to wear the pressure suit and a mask for all this time in between. She had to undergo about 30 months of countless reconstructive surgeries and more than 30 procedures.
Dana Vulin, the inspiring woman from Perth, not known for doing things by halves, stood courageous till the very end. On Sunday, she strutted down the catwalk at the West Australian Ballet Centre to unveil her beautiful face and beginning of a new phase of her life.
Incident Day
'I was pretty much instantly on fire,' a weeping Ms Vulin told Western Australia's District Court. 'I was a human fireball.'
'The moment I was on fire, [Dimitrovska and a male accomplice] just laughed and ran out of my apartment,' she added.

Trauma and Treatment
'I know who I am, but I'm beige. I don't have any expressions on my face, you can't see my mouth, you can't see my nose, you can literally only see my eyeballs, not my eyebrows. It makes me feel like a faceless nothing, that's the best way to describe it.'
'I respect the s**t out of this mask, and I appreciate it, but I also hate its guts. Without it I couldn't be where I am right now, but if I had a choice I'd rather endure physical pain than wear this mask.'
Aftermath
'In my wildest dreams in the beginning I didn't for one second think I could look in the mirror and see the old Dana again,' Ms Vulin told in the show.
I've been faceless and it makes you feel like a nothing and a no one,' she said.
'My skin and my burns and my scars are obviously a part of me now, but this is not me,' Ms Vulin says.