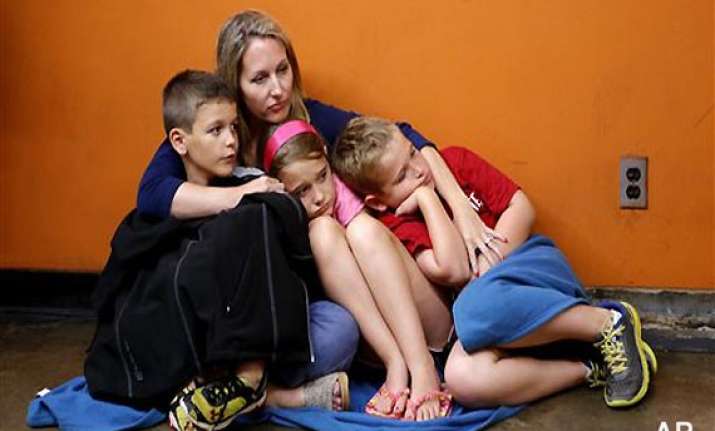 Oklahoma, Jun 2: Residents of the US states of Oklahoma and Missouri were piecing their lives back together on Saturday after severe weather ravaged the area overnight.
At least nine people died in the Oklahoma City area following violent tornadoes and thunderstorms.
The state Medical Examiner's Office said nine fatalities have been confirmed, including two children.
Hospital officials said more than 100 people were hurt during storms on Friday night that hit at rush hour, trapping many people in their cars along Interstate 40.
National Weather Service meteorologists said it is unclear how many tornadoes touched down during the evening.
Dozens of tornado warnings were issued across the Midwest states, including Oklahoma and Missouri, as a large storm front moved through the region.
A four-year-old boy died after being swept into the Oklahoma River on the south side of Oklahoma City.
The boy and other family members had sought shelter in a drainage ditch.
More than 100 people were injured, most of those being punctures and lacerations from flying debris, emergency officials reported.
On Saturday, muddy floodwaters stood several feet deep in the countryside surrounding the Oklahoma City metro area.
Torrential downpours followed for hours after the twisters moved east, up to seven inches (17.5 centimetres) of rain in some parts, and the city's airport had water damage.
The Oklahoma County Sheriff's Office said the body of a man who disappeared from his vehicle early on Saturday near Harrah, east of Oklahoma City, was found later in a creek by deputies.
Roadways around the area were crumbling because of high waters, especially near an intersection in northeastern Oklahoma City and in Canadian County south of Interstate 40 (I-40).
When the storm passed between El Reno and Yukon, it barrelled down I-40 for more than two miles, reducing billboards down to twisted metal frames.
The Oklahoma Corporation Commission reported more than 91,800 homes and businesses across the state remained without power on Saturday.
Oklahoma wasn't the only state to see violent weather on Friday night.
In Missouri, areas west of St. Louis received significant damage from a tornado that packed estimated winds of 150 miles per hour (240 kilometres per hour).
In St. Charles County, at least 71 homes were heavily damaged and 100 had slight to moderate damage.
Tens of thousands were without power, but only eight minor injuries were reported.