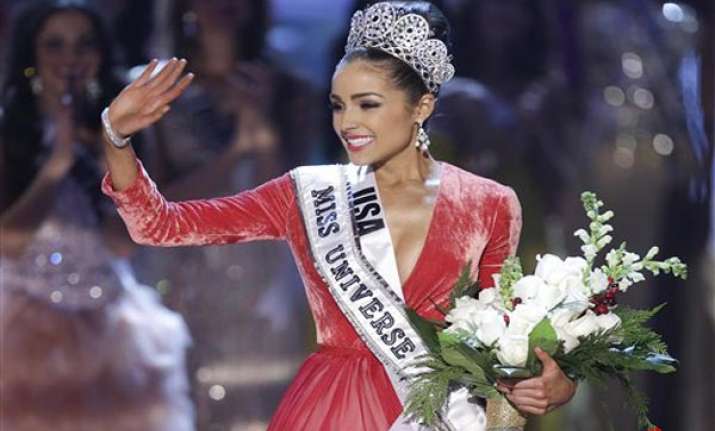 Las Vegas, Nevada, Dec 20: A 20-year-old Boston University sophomore and a self-described "cellist-nerd" brought the Miss Universe crown back to the United States for the first time in more than a decade when she won the televised contest Wednesday.
Olivia Culpo beat out 88 other beauty queens to take the title from Leila Lopes of Angola during the two-hour competition at the Planet Hollywood casino on the Las Vegas Strip.
Culpo wore a tight navy blue mini-dress with a sequined bodice as she walked on stage for the competition's opening number. Later in the night, she strutted in a purple and blue bikini, and donned a wintery red velvet gown with a plunging neckline.
Culpo's coronation ends a long losing spell for the U.S. in the competition co-owned by Donald Trump and NBC.
An American had not won the right to be called Miss Universe since Brook Lee won the title in 1997.
Culpo was good enough during preliminary competitions to be chosen as one of 16 semi-finalists who moved on to compete in the pageant's finale.
Her bid lasted through swimsuit, evening wear, and interview competitions that saw cuts after each round.
She won over the judges, even after tripping slightly during the evening gown competition.
Telecasters pointed it out but also noted her poised recovery.