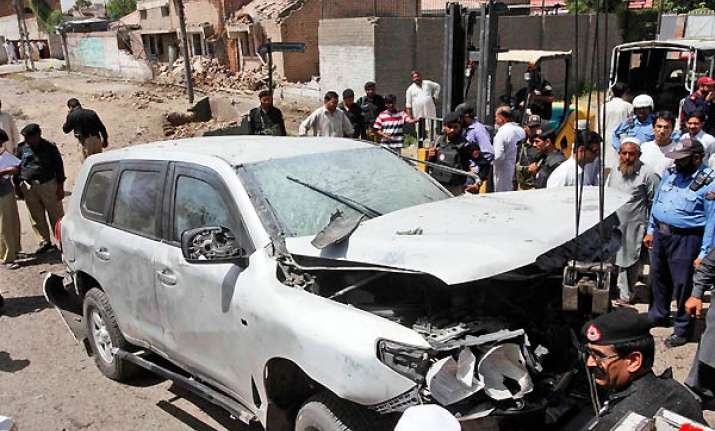 Peshawar, May 20: The Pakistani Taliban detonated a car bomb next to two US consulate cars carrying Americans in northwest Pakistan on Friday, wounding some of them in a strike the militants said was in revenge for the US raid that killed Osama bin Laden.

One Pakistani passer-by was killed and at least 10 people were believed to have been wounded, including an unknown number of Americans.

It was the first attack on Westerners since the May 2 raid by American commandos on bin Laden's hideout in Abbottabad, around three hours from Peshawar, officials said.The Americans' wounds were not serious, an embassy spokesman said.

The Pakistani Taliban, an al-Qaida allied group behind scores of attacks in recent years, claimed responsibility."We say to the Americans and NATO that we will carry out more deadly attacks and we can do it," Taliban spokesman Ahsanullah Ahsan said in a phone call from an undisclosed location.

"We had warned that we will avenge the martyrdom of Osama."Pakistani TV footage showed that the car that was hit was a large, sport utility vehicle.It appeared to have veered into a pole and the hood was damaged.Nearby buildings also were damaged in the blast.

No high-ranking US official was in the vehicles, which were making a routine trip to the consulate, said US Embassy spokesman Alberto Rodriguez.He said Americans in one of the vehicles received minor wounds, did not say how many were travelling.

Police said there were two "foreigners" in the damaged vehicle.Americans travelling in Peshawar normally used armoured vehicles.Peshawar lies just outside Pakistan's tribal regions, where al-Qaida and the Taliban are based.

The city has witnessed many of the suicide and other bombings that have scarred Pakistan over the past five years, the vast majority against Pakistani government and security force targets.

The US Consulate in Peshawar, which is believed to house a significant CIA presence hunting al-Qaida and associated groups, has been targeted in the past.The attackers Friday used 110 pounds (50 kilogram) of explosives, said senior police official Liaquat Ali Khan.

He said the second US vehicle arrived shortly after the attack and whisked away the Americans.The US raid that killed bin Laden in Abbottabad has badly damaged Pakistani-American relations.

Pakistan is angry it was not warned in advance that the Navy SEALs team would storm bin Laden's compound, and insists it had no idea he was hiding there.

US officials have visited Pakistan in recent days to try to patch up differences, and assure Pakistan's continued cooperation in the battle against al-Qaida and allied militant groups.