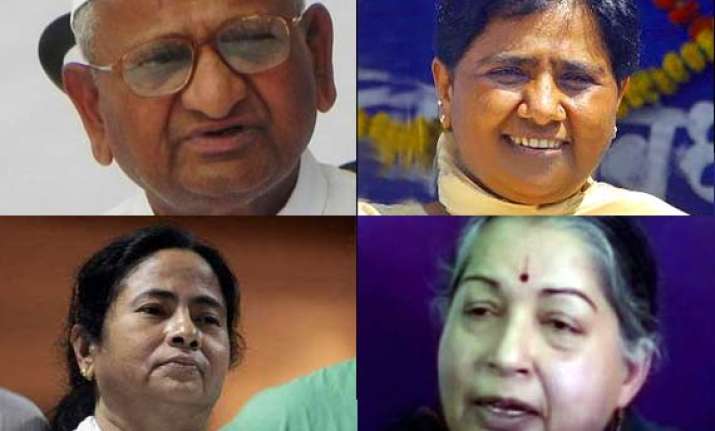 New Delhi, July 2 : In a bid to canvass support for a stringent Lokpal bill, social activist Anna Hazare and other civil society representatives have sought appointments from the chief ministers of West Bengal, Uttar Pradesh and Tamil Nadu, an NGO said today.

"The members of the civil society have today sought time from (Uttar Pradesh Chief Minister) Mayawati for a discussion on the Jan Lokpal Bill," Aswathi Muralidharan, member of the non-governmental organisation (NGO) Parivartan, which is seeking support for the Lokpal bill, told the media.
 
The civil society members are also trying to get appointments from West Bengal Chief Minister Mamata Banerjee and Tamil Nadu Chief Minister J. Jayalalithaa, she said.

The civil society representatives on the Lokpal bill's joint drafting panel met Bihar Chief Minister Nitish Kumar on Thursday (June 30) and Bharatiya Janata Party (BJP) leaders on Friday.

They have also met leaders from Left parties and the Rashtriya Lok Dal (RLD).

"We have an appointment to meet (Congress chief) Sonia Gandhi today evening," she added.

Meanwhile, Arvind Kejirwal, one of the civil society representatives, today morning met Telugu Desam Party (TDP) chief N. Chandrababu Naidu and sought support for the inclusion of the prime minister under the ambit of the Lokpal bill.