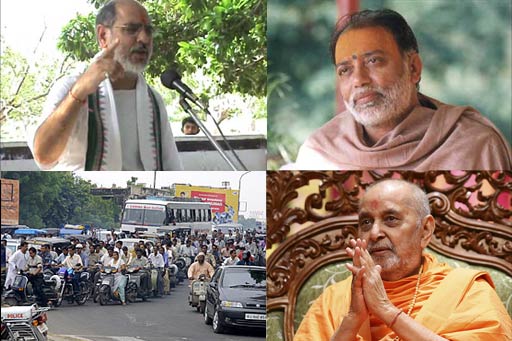 Gujarat Director General of Police S S Khandwawala will be personally writing letters to religious heads like Morari Bapu, Rameshbhai Oza, Father Cedric Prakash, Pramukh Swami, etc   requesting them to educate citizens about traffic rules and encourage them to stick to the same. The initiative will ensure good sense prevails, hopes the DGP, reports Ahmedabad Mirror.
"We will be writing to the religious heads urging them to incorporate traffic rules and road safety in their discourse. Since they have ardent followers from across age groups, we believe the leaders can play a pivotal role in instilling traffic sense among people.
The letters will be sent out in two-three days to spiritual leaders like Ramesh Oza, Morari Bapu, Father Cedric Prakash, Pramukh Swami, pesh imams, heads of gurudwaras, mosques and temples," Khandwawala told Mirror.
A copy of the letter will be sent to government departments associated with traffic and road safety.  
"Traffic police have come up with several action plans and campaigns to manage traffic more effectively. While these efforts will continue, soliciting help from religious leaders will only help cops achieve their objectives sooner. Religious leaders can bring about a change in the attitude of road users by referring to teachings from the holy books, with anecdotes thrown in, for good measure," the DGP said. 
Khandwawala said he met four religious heads recently and they are convinced about his idea. "The leaders I met are convinced about the idea. They have promised full co-operation." he said.  
Father Cedric Prakash lauded the DGP's decision, saying: "I will definitely request people to adhere to traffic rules. But I also hope there is an effective system in place to tackle corruption among traffic cops."  
Pesh Imam of Jama Masjid Mufti Shabbir Ahmed had something similar to say. "I welcome the move by our top cop. It should bring about a visible change in the on-road behaviour. But corruption in the system should be dealt with head-on."   
Jaganmohan Krishnadasji, president of ISKCON Temple said: "We connect well with schoolkids and teachers. We can explain to them the importance of road safety."