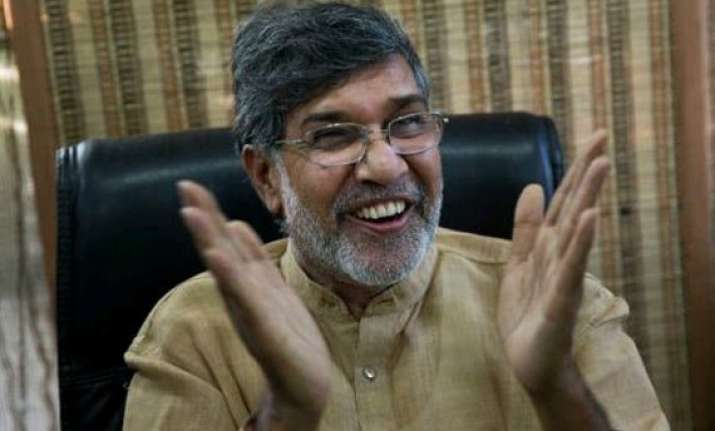 New Delhi: Eighteen-year-old Manan Ansari has no idea what a Nobel Peace Prize is but he is delighted to see a smile on the face of the most important man in his life-- child rights crusader Kailash Satyarthi, who rescued him from the mines of Jharkhand when he was just eight.
Waiting in the lobby of the Bachpan Bachao Andolan's (BBA) office here in south Delhi to meet the man of the hour, Ansari got to know about the news in the afternoon and immediately rushed to meet Satyarthi, whom he proudly calls his "mother, father, friend, guide and confidante".
"He means everything to me. If it was not for him I may have not been alive today as I was working in a mine back home (Jharkhand) when I was rescued," Ansari who is pursuing a course in science from the Delhi University told IANS.
"It's a special day because he has won the prize and I am the happiest person in the world today," added the boy who wants to become a doctor.
After being rescued, Ansari was taken to Rajasthan where he completed his schooling and then came to Delhi this year for his graduation.
BBA has been one of the first NGOs to have started work on child rights, and against child labour in 1980. Touching the lives of thousands of young children, often from socially and economically vulnerable background, the group actively participates in rescue operations along with police and the labour department and helps the kids reunite with their families.
BBA has also led successful campaigns against the use and sale of products in domestic and international markets that employ children to do the work.
For 22-year-old Suman Kumar Mahto, Satyarthi is a guiding light who has helped him become independent.
"I never imagined that one day I would become a graphic designer and earn enough money for not only myself but also my family," a proud Mahto who earns around Rs. 15,000 every month and sends a major share of his salary to his mother and brother back home in Bihar told IANS.
Mahto was employed as a domestic help in Bihar when rescued by BBA back in 2001. He came to Delhi in 2010 to pursue a course in graphic designing.
According to Mahto, Satyarthi has the gift to sense if any of his child is worried or bothered about something and also the ability to solve that problem.
"When I came to Delhi, the thought of how to earn a decent livelihood gave me sleepless nights. But he (Satyarthi) comforted me and helped in standing on my feet," Mahto said.
"He knows how to deal with troubled children like us. He talks to us like a friend and keeps cracking jokes to make us feel comfortable," he added.