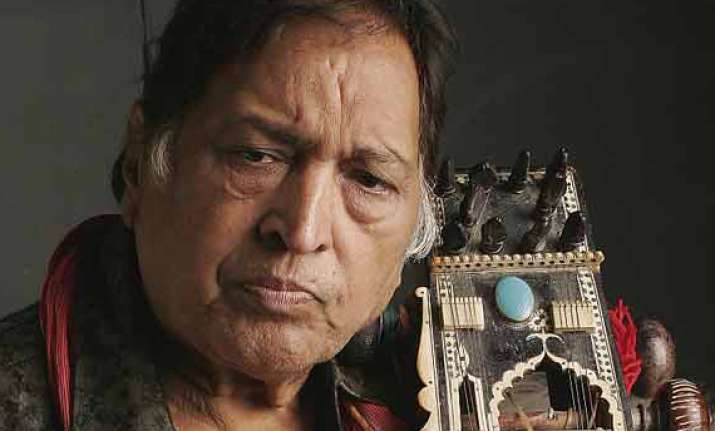 Mumbai, Nov 27: Sarangi maestro and classical singer Ustad Sultan Khan, the soulful voice behind hits like 'Piya basanti' and 'Albela sajan aayo re', passed away this afternoon here after prolonged illness.

The Padma Bhushan awardee, 71, who hailed from a family of sarangi players in Jodhpur, was on dialysis for some time, family sources said.

His funeral will take place in Jodhpur tomorrow.  Credited for reviving sarangi, Khan is famous for his extraordinary control over the instrument and his husky voice.  He started performing at a the age of 11, and later collaborated at the international level with sitar maestro Ravi Shankar, on George Harrison's 1974 'Dark Horse World Tour'.

Khan's was a family of sarangi masters from Rajasthan. He was initially tutored by his father, Ustad Gulab Khan. Later, he trained under Ustad Amir Khan, a classical vocalist of Indore gharana (school).

After establishing himself as sarangi player, Ustad Sultan Khan also worked with musicians from the Hindi film industry, such as Lata Mangeshkar, Khayyam, Sanjay Leela Bhansali apart from collaborating with musicians in the West.

Apart from Padma Bhushan, Khan won numerous musical awards including the Sangeet Natya Academy Award twice, the Gold Medalist Award of Maharashtra and the American Academy of Artists Award in 1998.

Khan was also a members of the Indian fusion group Tabla Beat Science, with Zakir Hussain and American bassist Bill Laswell.

His son, Sabir Khan is also a well-known sarangi player.

Expressing his shock over Khan's death, musician Salim Merchant said, "I lost my ustad - ustad sultan khan, my guru my friend my idol. He passed away this afternoon. We will never have a sarangi maestro like him."

Talking to PTI, Merchant said Khan had not been keeping well for quite some time. His kidneys had failed, necessitating dialysis."

Actress Dia Mirza said, "Ustad Sultan Khan Saab our most revered sarangi player... your rich legacy will live on. RIP." Musician Ismail Darbar, who worked with Khan in 'Hum Dil De Chuke Sanam, said," "It's a great loss for Indian music industry. I was shocked to hear the news of his death as I knew that he was not keeping well for sometime.

"I share a different rapport with him. He was my father's close friend. I was the first one to make him sing a song for a film. He sang ' Albella...' brilliantly for the film," Darbar said.

Shreya Ghoshal, who collaborated with Khan on 'Leje leja re', wrote, "Just heard about the loss of our dear Ustad sultan khan Sa'ab  I had the gr8 fortune and honour of working with him. Too saddened."
Eminent Sarod player Amjad Ali Khan today deeply condoled the death of Sarangi maestro  Ustad Sultan Khan, saying it was a great loss to the music world.

"I am deeply saddened at his demise. It is a great loss to the music world.... He gave a different meaning and different dimension to Sarangi," Amjad Ali Khan said.
 Amjad Ali Khan said he and his two sons—Amaan and Ayaan—had planned to perform in Jodhpur in January at the invitation of Sultan Khan.

"He wanted us to go to Jodhpur to perform. He had planned to honour us also.... We will still go there as per plan and pay homage to him," he said.

 Amjad Ali Khan said Sultan Khan was honoured with Ustad Hafiz Ali Khan award in 2001 for his contribution to Indian classical music.

Amjad Ali Khan is the younger son of the late Hafiz Ali Khan.