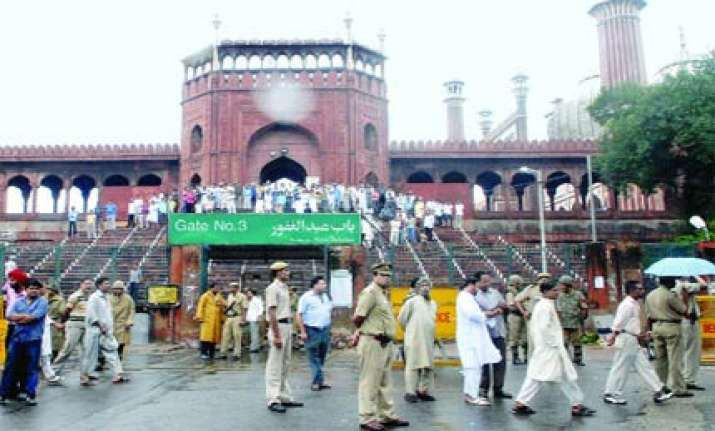 New Delhi, Feb 18 :  Groping in the dark in the September 19 Jama Masjid attack case, Delhi Police has announced a reward of Rs 25 lakh for anyone with information on the car blast that occurred there and increased the reward from Rs 10 lakh to Rs 30 lakh for clues on firing at Taiwanese tourists.
With this, the total amount of reward for credible information related to the attack has gone up to Rs 55 lakh.Police said the information should come to them within a year.The two incidents where unidentified motorcycle-borne attackers shot and injured two Taiwanese nationals outside the Masjid and a crude pressure cooker bomb blast took place in a car parked nearby created scare among Delhiites ahead of the 2010 Commonwealth Games.
Commissioner of Police B K Gupta announced that Delhi Police will give a cash reward of Rs 25 lakh for anyone who may give information or clues about any person involved in the car blast on September 19.
A car went up in flames when a "crudely-circuited"pressure cooker bomb exploded about 50 metres away from the Jama Masjid where the firing incident took place two hours earlier.
Though police and other investigating agencies suspected the involvement of Indian Mujahideen, no one has been arrested yet in the case by the Delhi Police Special Cell which is probing the case.Gupta also announced that he has enhanced of the amount of reward from Rs 10 lakh to Rs 30 lakh for any information on the firing incident that injured two Taiwanese tourists.
A month after the incident, Delhi Police had in October last year announced a reward of Rs 10 lakh for information about the two bikers who fired at the tourists or anyone who helped the attackers.A day ahead of the announcement of the reward in October,two Kashmiris had approached the police claiming that they were sent to paste inflammatory posters on Ayodhya in central Delhi by some persons who were harassing their families.
Though police investigated whether those people who sent the Kashmiris to Delhi were involved in the firing incident,no breakthrough was made in this direction.
Investigators have questioned over 50 people in connection with the strikes but "no concrete" headway has been made in the probe while several teams had gone to Uttar Pradesh and Mumbai to find some links in the case.
Police initially attributed the incident to "disgruntled youths and local criminal gangs" ruling out involvement of any organised terror outfit.
The assertion came despite the outlawed Indian Mujahideen claiming responsibility for the strikes and warning of more attacks ahead of the Games in an e-mail sent to several media organisations. PTI