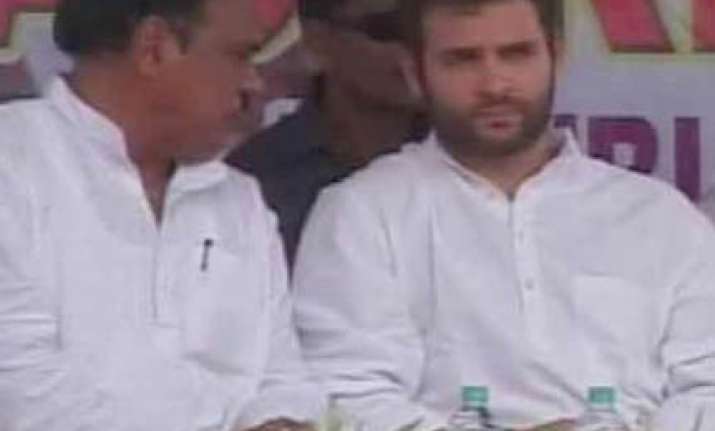 Lanjigarh (Orissa): Making a visit here against the backdrop of the Centre rejecting environment clearance for the bauxite mining project of Vedanta, Rahul Gandhi on Thursday hailed the decision as a victory for tribals of the area and vowed to fight for their cause.  
"True development takes place by respecting interests of the poor and tribals and not by muffling their voice," he said refuting charges that Centre's action in negating bauxite mining in Niyamgiri was against development and progress.  
Two days after the Union Environment Ministry rejected environment clearance to UK-based Vedanta's USD 1.7 billion bauxite mining project in the Nyamgiri hills citing serious violation of forest and environment laws, Gandhi arrived here on a brief visit to show solidarity with the tribals.  
Recalling his visit to the area in the year 2008, Gandhi said a group of Advasi youth had told him then that the hill is their God and that it is being destroyed. They worshipped the hills as their God with utmost devotion. It was their sole source of livelihood.
The voice of the tribals was sought to be muffled in a bid to undertake mining activities in Niyamgiri and give pace to development at the cost of the poor, the Congress general secretary said.
"Then I had told you, though I stay in Delhi, I will be there to protect your voice....I am here to say that your voice has reached Delhi and you have saved your land. I was with you. Whatever I could do, I have done," he said.
Rejecting the criticism that Centre's decision to deny environment clearance was against development, Gandhi said in the name of development, rights of adivasis were being suppressed.
 "It is not development when rights of the poor is taken away. Development means to take everybody on board..we are for development, we will fight for development, we will fight for your voice," Gandhi said.
Noting that there exists "two 'Indias': one for the rich whose voice reaches everywhere and the second one is poor man's India whose voice is hardly been heard," Gandhi promised to be on the side of the tribals in their fight for justice. 
 "I am your foot soldier. My job is not yet over It has just begun. Whenever you need me, wherever I am, I am ready to be with you," he said.
Those seeking to pursue industrialisation must realise that development cannot be achieved by snatching away the rights and land of the poor, he said adding it was the UPA government which sincerely heard and honoured the voices of the poor tribals of Niyamgiri. PTI