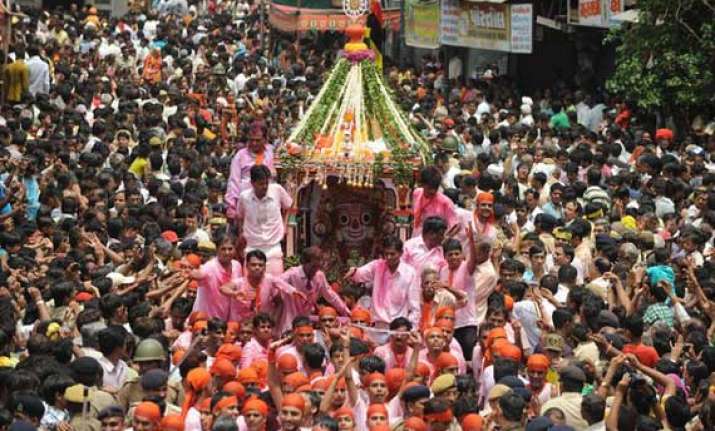 Ahmedabad: The city police have given a final shape to the overall security arrangements for the Lord Jagannath Rath Yatra procession to be held here on June 29.
Briefing reporters at the Police Headquarters here today, Ahmedabad Commissioner of Police (CP) Shivanand Jha said more than 19,000 uniformed police and para-military men would be deployed to provide elaborate security for the rath yatra of around 18 km inside the walled city.
Reinforcements would include eight IG and DIG-level officers, 39 SPs, 76 DySPs, 222 police inspectors, 759 police sub-inspectors, 266 police women, 12,050 constables, two Central Reserve Police Force (CRPF) companies, 36 companies of the Gujarat State Reserve Police (SRP), eight companies of the Border Security Force (BSF), four Central Industrial Security Force (CISF) companies, four Rapid Action Force (RAF) companies and 4500 homeguards.
"In addition to these forces, we will also take help from neighbourhood committee volunteers and other local leaders, who will stand at different points, along with the police. To make everyone aware about their role, we will conduct rehearsals twice on the procession route," Jha said.
The procession would comprise 18 elephants, 100 trucks, 30 religious congregations, 18 singing troupes, three chariots and seven cars.
Since several areas on the procession route like Shahpur, Dariyapur, Astodia and Kalupur are considered communally sensitive, the police would use technology to keep a close watch on every movement, Joint Commissioner of Police (JCP) Special Branch Vikas Sahay told reporters.
To stop miscreants from using terraces of houses in narrow lanes, terrace surveillance exercises using four 'Netra', unmanned aerial vehicles, have already begun, he said.
"Netra's camera would provide feed to our laptop. It can fly upto 100 metres and give us a birds eye view. We have already found several suspicious things on terraces using Netra and asked house owners to clear their terraces," Sahay said.
"We have installed 80 closed circuit television cameras (CCTV) in such areas. Live feeds from these cameras will be monitored by our main control room.
To enable our top 200 officers track the exact location of the procession from anywhere, 17 police control room vans with GPS systems will be deployed to send SMSes to them," Sahay said.
Detection Crime Branch's (DCB) 2,500 men have been given the responsibility to walk along the procession.
"From the moment Rath Yatra begins from the Jagannath temple, until it returns during the night, our men will walk with the procession. We have selected young and fit personnel who can walk 22 km with the procession.
We will also deploy four Bomb Disposal Squad teams and 24 mounted policemen who will be with the procession," JCP Crime A K Sharma said.