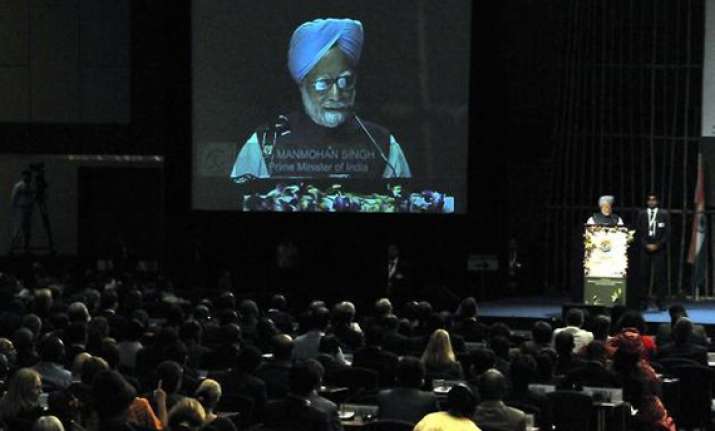 Hyderabad, Oct 16 : Prime Minister Manmohan Singh today  said  India will spend $50 million to strengthen the institutional mechanisms for protection of biological diversity during its two-year presidency of the Convention on Biological Diversity.
This will be used to advance the objectives of the CBD, at the national and state level in the country.
Similar capacity building assistance funding will be made available to developing countries, reports the Hindu.
Dr. Singh said India had ratified the Nagoya Protocol of the CBD providing for access and benefit sharing for use of genetic resources and firmed up its commitment.
All Parties to the Convention should do likewise and there was no cause for further delay.
Calling ecosystem services provided by biodiversity of great importance for the 'GDP of the poor', Dr. Singh said India was devoting large amount of funds to safeguard their sustenance through schemes such as the Rural Employment Guarantee Scheme.
The country had also passed the Biological Diversity Act in 2002 and the National Biodiversity Action Plan.
Dr Singh said, protecting and promoting biodiversity has always been an integral part of the Indian ethos and culture. This can be seen from the thousands of sacred groves all over the country.
Traditional system of agriculture and medicine in India has depended on plant and animal biodiversity, and protecting the wild relatives of these resources that we use today is of paramount importance, Dr Singh said.
India has created a digital library of traditional knowledge.
This is in a format that is easily accessible to patent examiners and had been able to avert over a thousand cases of bio-piracy.
Also, 105 claims were cancelled or dropped by Patent Offices.
India was offering its assistance to the World Intellectual Property Organisation to set up other similar facilities.
The treasure trove of traditional knowledge should be used for the benefit of all humanity, rather than for profit, he said.