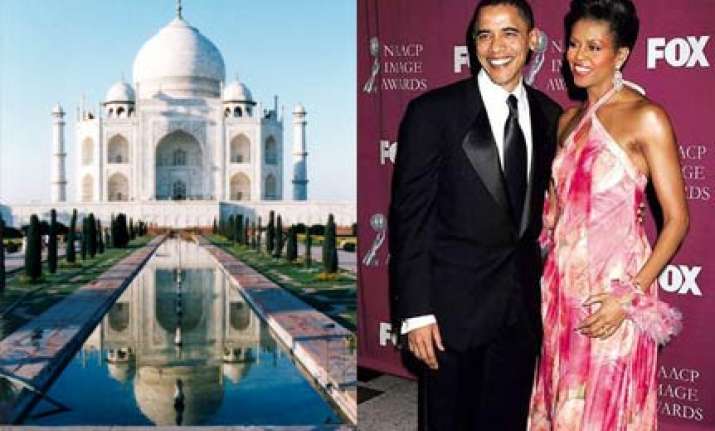 Washington, Oct 28: The American first couple, Barack and Michelle would miss a tryst with Taj Mahal, a symbol of love during their maiden visit to India, but US official did not rule out a future trip.
"The first couple would not be having a trip to the Taj Mahal this time", Ben Rhodes Deputy National Security Advisor said at a White House briefing on US President's visit to India adding " but hopefully he would in future".
"He(Obama) loves to see the Taj Mahal. He could at some point." he said.
 "Certainly we wouldn't rule out any visit (to the Taj Mahal)in the future.  And, hopefully, we'll be able to return to India.  But right now, we're focused on this upcoming trip," Rhodes said in response to a question.
Though President Obama and the first lady may skip the fable marble monument, renowned the world over as a symbol of romance, the couple will instead make a trip to the Lutyens, Humayun`s tomb considered a forerunner to the Taj.
"The first couple, however, would be visiting Humayun's tomb," Rhodes said, describing it as one of the great cultural marvels in New Delhi.
"The President felt it was important give the rich civilization that India has, to pay tribute to that through this stop," he said.
Michelle would be accompanying the President only on the first two legs of his Asia trip, India and Indonesia before peeling off for the rest of the Presidential tour.
"The First Lady is travelling because she wanted to see India" the US official said.
Keeping up with the tradition of his two predecessors, the US President is taking along with him the First Lady, Michelle Obama, when he visits India next week, but the first couples two daughters - Sasha and Malia - would not be accompanying them as school would be in the session, a top White House official said.
"The First Lady is going to be with the President… let me just add, too, because I know that there's different reports in the Indian press.
The children, Sasha and Malia, are not coming. It's during their school year, of course. But the First Lady is coming," Rhodes said.
Besides accompanying her husband to the Humayun`s tomb, Michelle will be attending a series of independent events, targeted towards empowerment of women, education and children.PTI