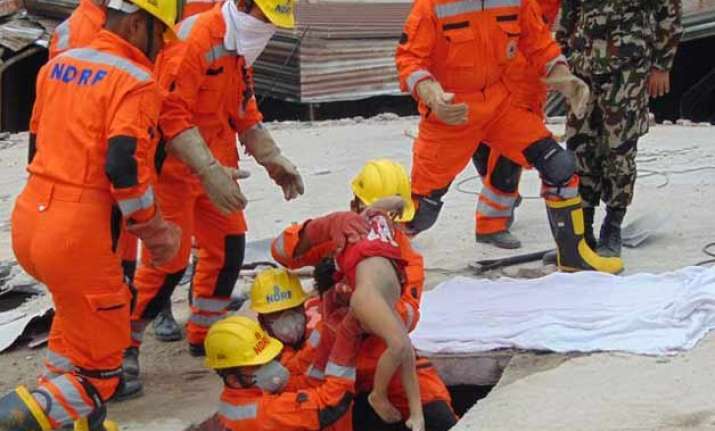 Kathmandu: India's National Disaster Relief Force yesterday began withdrawal of its men from quake-hit Nepal after the Himalayan nation asked foreign rescuers to end their humanitarian efforts.
"We have begun a phased withdrawal of our units after Nepal made a request for stopping the relief and rescue efforts. The going back will be phased and in the first instance three teams will leave by road to Patna today," NDRF chief O P Singh told PTI yesterday.
The government had pressed a total of 16 NDRF teams, with 45 members in each, to undertake humanitarian aid, relief and rescue operations.
The specially-trained force rescued 11 persons, retrieved 132 bodies and provided medical aid to 1,157 injured and sick victims.
Nepal government on Monday asked hundreds of foreign rescue workers to leave the quake-hit country as immediate relief has already been provided and the remaining tasks will be carried out by its army and police.
The major rescue work in Kathmandu and surrounding areas is over and the remaining operations can be handled by local workers, Information Minister Minendra Rijal said.
The Central Natural Disaster Relief Committee - headed by Home Minister Bam Dev Gautam, who is also the Deputy Prime Minister - had asked the government to bid adieu to the foreign rescue teams yesterday, eight days after the deadly earthquake hit the Himalayan nation.
Around 4,500 people from around 34 nations, including National Disaster Response Force (NDRF) teams from India, came to Nepal after the April 25 earthquake to carry out the rescue work and pull people out of the debris.
Most of the rescue teams were carrying out operations in the worst-affected districts of the Kathmandu Valley, Sindhupalchowk and Gorkha districts.
"Its more than eight days after the earthquake. The rescue teams have served their purpose and we are very thankful to them.
More than 7,200 people, including 54 foreigners have lost their lives in the 7.9-magnitude earthquake.
(With inputs from agencies)