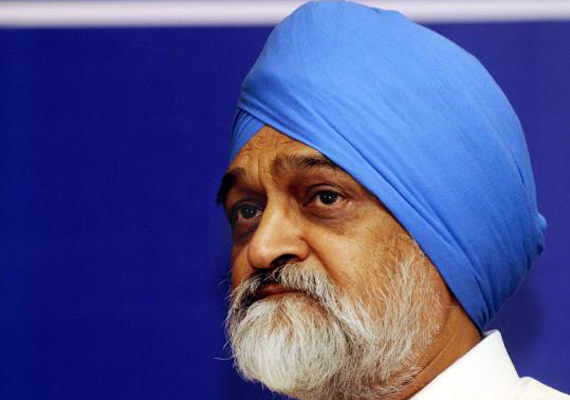 Patna, Feb 18: Planning Commission Deputy Chairman Montek Singh Ahluwalia on Friday kept mum on the state government's demand to the Centre for according special category status to Bihar to bring in private investment for industrial development.

"I will rather not say anything on the issue given that the majority of the audience sitting in the auditorium favours the demand (special category status)," he said in reply to a question by JD(U) MP N K Singh at the planery session of the Global Summit on Changing Bihar. 

Ahluwalia said that there has been liberal fiscal transfers to less development regions and states, including Bihar, under various centrally sponsored schemes and other special heads for economic development and welfare. 

"Bihar is among the beneficiary states under the fiscal transfers from the Centre under its various schemes and other heads like the Backward Region Grant Fund (BRGF) over the years and the state has in fact done well in implementation of the Prime Minister Grameen Sadak Yojana (PMGSY)," he said.

The Centre was also considering demand for flexible use for the funds under the centrally-sponsored schemes and reduction in the central schemes for which a committee headed by the former bureaucrat B K Chaturvedi was working on a proposal for streamlining the central schemes and allowing flexibility to the states to use the funds flexibly, he said.

On the demand from various states about reduction in the number of the centrally-sponsored schemes, Ahluwalia said that though he understood the demand, yet there was no consensus among the states on the issue. 

The Planning Commission Deputy Chairman lauded the state for attaining robust growth rate over the past 5-6 years, but regretted that the growth story has not translated into the generation of per capita income. 

The growth rate will make difference to the lives of people if it help increase their income for that the economic growth at the present level must sustain for the next 10-15 years, he said.

There was no reason why Bihar cannot grow economically, he added.

Ahluwalia also advised economically-backward states like Bihar to do away with sales tax sops for traders and other sops to industrials and advised the state government to lay infrastructure and other facilities for bringing private investment for industrial development.