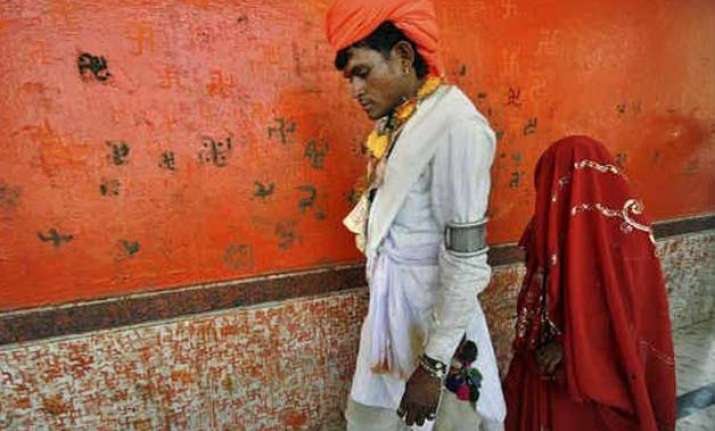 New Delhi: From prostitution to seeing death of two of her children, she has gone through all pain.
This is a story of a woman who was sold by her parents when she was barely 10, became a mother of three by the age of 14 and was abandoned by her husband soon after.
Sharda (name change) was forced into prostitution by her husband and saw death of two of her children. Her pain doesn't end here, further her mother tried to sell her off second time for Rs 50,000.
Archana Sahay from NGO Childline brought Shrada's story in limelight and says that the sexual exploitation of minors is on the rise in the Madhya Pradesh, both in rural and urban areas are high.
A Census of India 2011 report on marital status by age and sex, which was released last week, shows that 8.91 lakh underage persons (below 18 women and below 21 men) were already married in Madhya Pradesh (MP) at the time of the census. Going further, an analysis of the data by NGO Vikas Samvad says that over 12% of the entire populations of MP, or 22.2% of the youth population below 25 years of age, were married before legal age at the time of the survey. The total population of the state was 7.26 crore during Census 2011, of which over 4 crore were below 25 years of age. READ MORE
Speaking to Hindustan Times at the Bhopal district hospital crisis centre, Sharda revealed her life of pain and trauma, displaying maturity far beyond her 15 years.
Police recently arrested Sharda's mother and step-father on charges of killing her second child, just two years old, and are looking for her husband.
Having lived a lifetime in just 15 years, Sharda is now looking forward to raising her only surviving child, her eldest son aged three, at a government shelter which is likely to become her home.
"The man Komal married me at a temple. For a few years he took good care of me. But gradually he became indifferent," Sharda said. She hails from Kathonda village in Sagar district, around 125 km from Bhopal.
After her second child was born, Komal started putting pressure on her to get intimate with other men of the village. Though very young, Sharda said she refused to have physical relationship with them.
"But then I was forced to get physical with a man in our village (in Vidisha district). That man even paid money to my husband. But when he started forcing me to do it again, I put my foot down. From that day, he started torturing me and ultimately left me," she added.
A pregnant Sharda and her two children returned home to a hostile reception from her mother, who had by then remarried and had three more daughters.
She delivered her third child but it died within a month.
"My mother asked me to go with another man, who was ready to pay Rs 50,000. But when I refused my step father became very angry and stopped giving food to me and my children," Sharda added.
Despite all these troubles and taurma, Sharda is still ready to forgive her husband and go back to him.