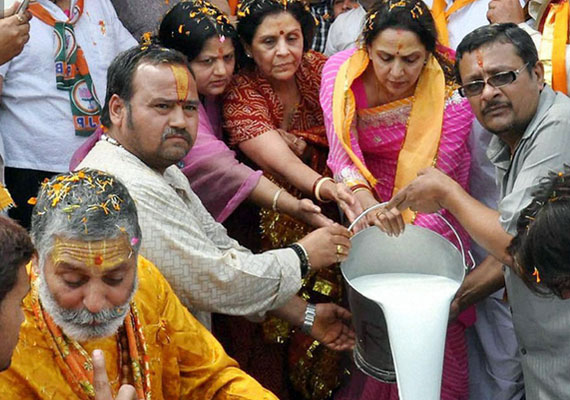 Mathura(UP): BJP candidate from Mathura and Bollywood star Hema Malini poured milk into the river Yamuna at Vishram Ghat here in course of her campaigning for Lok Sabha elections.
Hema Malini said this was a symbolic gesture as she would work towards making river Yamuna clean and remove pollution.
Hema Malini said: "Protection of our cultural heritage in the form of Ganga and Yamuna is vital . I would do my best to ensure a clean Yamuna".
Paying her obeisance at Radha temple, Hema Malini said: "Nobody can move in the land of Krishna without the blessings of Radha Rani. I don't have any self-interest. Lord Krishna has given me a lot. I want to serve Brij Bhoomi and develop it in accordance with the aspirations of the local people."
Comparing her poll contest with that of Narendra Modi, Hema Malini said, it is nice that I am contesting from Lord Krishna's birthplace and Narendra Modiji is contesting from Lord Shiva's place (Varanasi).
Hema Malini is facing a tough contest against Rashtriya Lok Dal chief Ajit Singh's son Jayant Chaudhary.
During campaign, Hema Malini prefers to sit inside her Audi car and wave at villagers, who have been asking why she was taking the trouble of coming, if she had to sit inside her car and wave.
At Govardhan, she was supposed to pray at the temple at 6 am and begin her campaign, but she arrived four hours late at around 10 am. This angered local BJP workers, who told her in plain words that she must adhere to the timing and God cannot be made to wait for her.