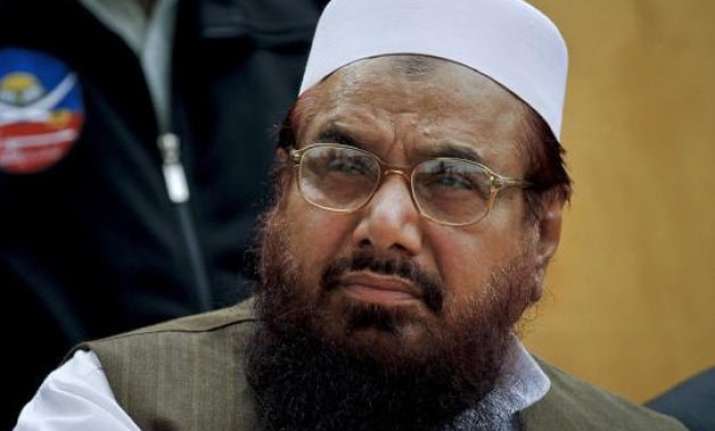 New Delhi: India's most wanted terrorist and Mumbai terror attacks mastermind Hafiz Saeed has once again spewed venom against New Delhi. This time he has claimed that India is against the multi-billion China-Pakistan Economic Corridor (CPEC) project.
Accusing India of making attempts to disrupt the project, he said that its spy agency Research and Analysis Wing (RAW) has set up a special cell to impede completion of the project.
Addressing a certificate distribution ceremony at a Madrassa in Peshawar, he asked the Pakistan government to report the matter to UN Security Council.
Saeed, founder of terror outfit Lashkar-e-Toiba, further said that India can never see Pakistan as a strong and developed country.
In April this year, China and Pakistan had signed an agreement for CPEC that will link China's underdeveloped far-western region to Pakistan's Gwadar deep-sea port on the Arabian Sea via PoK through a massive and complex network of roads, railways, business zones, energy schemes and pipelines.
Saeed further urged the Nawaz Shairf government to expose India's face before the world. He also claimed that the West was actually supporting India for interference in Pakistan.
He said that the United States was actually backing India for promoting terrorism in Pakistan.
On Kashmir issue, Saeed said the people in the region by waving Pakistan's flag proved that they wanted accession with Pakistan.
Saeed is a major irritant in the already strained relationship between India and Pakistan as New Delhi has expressed its resentment over his not being brought to book for the Mumbai attack. He runs the Lahore-based Jamaat-ud-Dawa (JuD), which he claims to be running for humanitarian charity. The JuD has been blacklisted by the US, which has described it as a foreign terrorist organisation.