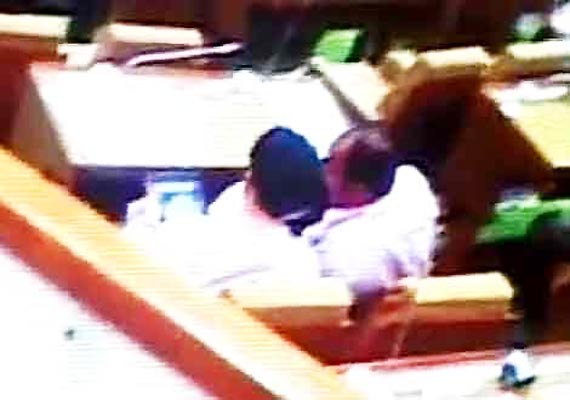 Gandhinagar, Mar 22: The Gujarat Assembly was today adjourned thrice as Opposition Congress continued to disrupt the proceedings with their demand to dismiss the two BJP MLAs, accused of watching obscene pictures in the House.  
When the Assembly met today, Congress MLAs stood up at their places and started shouting slogan "dismiss those watching naked pictures."
They tore papers and threw it in the well of the House.  Speaker Ganpat Vasava tried to pacify them and bring the House in order.
However, the slogan shouting continued following which the House was adjourned for an hour.  
When the House met again after an hour, Congress MLAs resumed sloganeering demanding dismissal of Shankar Chaudhary and Jetha Bharwad.
Vasava then adjourned the House for another 45 minutes.  As the din continued for the third time too, the Assembly was re-adjourned.
The MLAs came under scanner for allegedly watching obscene pictures during the House proceedings after a journalist of a vernacular newspaper brought the incident to notice of the Speaker.
On March 20, Radhanpur's MLA Chaudhary and fellow BJP MLA from Shera Bharward were seen spending time on a tablet during the House proceedings and it is alleged they were watching obscene pictures of women.
Speaker Vasava had yesterday ordered a probe by the Privileges Committee into the unsavoury episode after asking the Assembly Secretary to confiscate Chaudhary's tablet for forensic test.
"Such incidents cannot be tolerated in Parliamentary democracy if elected representatives are targeted by media in such a manner that they have to face humiliation," he had said ordering a probe by the panel which has members from both the ruling party and the Opposition.
However, the two MLAs had denied the charges and have alleged that this was a conspiracy to malign them and their party.
Yesterday also, the issue generated a lot of heat with the Congress demanding dismissal of the two MLAs, forcing adjournment of the House twice.
Also, all the Congress MLAS were suspended for a day yesterday on the issue.