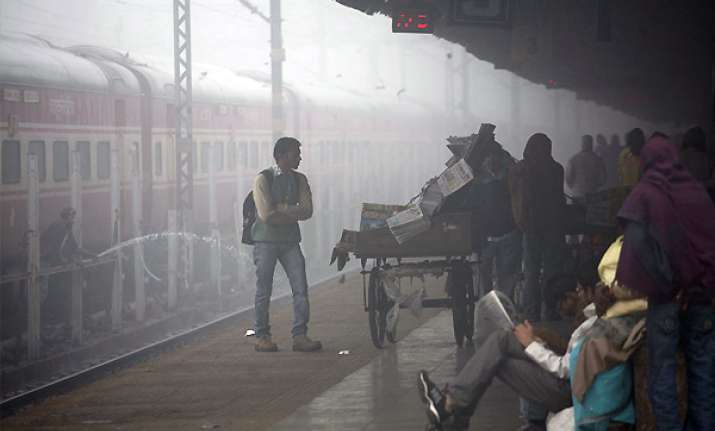 New Delhi, Dec 19: Dense fog over North India triggered large-scale disruption of train services today with over 100 trains arriving "inordinately late" in the city and over three dozen being resheduled.
The worst affected were trains coming from the eastern states, some of them running late by a day. "Poor visibility reduced the train speed considerably which ran at a snails pace," said a Northern Railway spokesperson.
There was a major bunching of trains on the busy Howrah-Delhi route during the day, the spokesperson said, adding over 120 trains arrived in the city inordinately late.
Almost all the Rajdhanis bound for East were rescheduled for the day while passengers had to wait for long hours in major stations of the Capital to board for their destination.
Railways had earlier cancelled close to 30 trains to cope with late running of trains during poor visibility.
According to the spokesperson, trains which were running late by more than a day include the Mahabodhi express from Gaya, Garib Rath express from Bhagalpur, and Neelanchal express from Puri.
Railways has already instructed officials on board trains to ensure adequate stock of food and milk on trains.  Signalling systems on busy routes have been suitably modified to avoid collision in foggy weather conditions, the spokesperson said.
NORTHERN  RAILWAY

 

 

 

 

NEW DELHI

 

 

 

 

Dated: 19.12.2011                             Time 18.15 Hrs.

 

RESCHEDULING OF TRAINS DUE TO FOG

 

 

TRAIN NO.

TRAIN NAME

FROM

TO

SCH. DEP.(HRS.)

RE.SCH. DEP(HRS.)

Passengers may check latest status of their train from Railway Enquiry No. 139, Railways website or New Delhi Fog Helpline No. 011-23747110 begin_of_the_skype_highlighting              011-23747110      end_of_the_skype_highlighting

14258

KASHIVISHWANATH EXP

NEW DELHI

VARANASI

11.40

20.10

12282

DURONTO EXP.

NEW DELHI

BHUBANESHWAR

13.00

17.00

12816

PURI EXP.

NEW DELHI

PURI

6.30

11.40

12506 of 18.12

N.E. EXP.

NEW DELHI

GUWAHATI

6.40

16.30

12310

RAJDHANI EXP

NEW DELHI

PATNA JN.

17.10

00.10 A.M. ON 20.12.11

12314

RAJDHANI EXP

NEW DELHI

SEALDAH

16.30

23.00

22812

RAJDHANI EXP

NEW DELHI

BHUBANESHWAR

17.20

06.00 A.M. ON 20.12.11

12459

INTERCITY EXP

NEW DELHI

JALANDHAR

13.35

16.30

12368

VIKRAMSHILA EXP.

ANAND VIHAR

BHAGALPUR

14.20

21.40

12382

POORVA EXP.

NEW DELHI

HOWRAH

16.20

20.20

12398

MAHABODHI EXP.

NEW DELHI

GAYA

14.10

07.40 A.M. ON 20.12.11

12566

BIHAR S.K. EXP.

NEW DELHI

DARBHANGA

14.30

17.30

12282

RAJDHANI EXP

NEW DELHI

BHUBANESHWAR

13.00

22.00

12388

JAN SADHARAN EXP

ANAND VIHAR

RAJENDER NAGAR

15.20

02.30 ON 20 12 11

12394

SAMPURAN KRANTI EXP.

NEW DELHI

RAJENDER NAGAR

17.30

22.45

12190

MAHABODHI EXP.

H. NIZAMUDDIN

JABALPUR

16.10

18.35

12780

GOA EXP.

H. NIZAMUDDIN

VASCODEGAMA

15.05

20.45

12412

GONDWANA EXP.

H. NIZAMUDDIN

JABALPUR

15.20

19.10

12428

REWA EXP.

NEW DELHI

REWA

23.55

5.30 A.M. ON 20.12.11

12306

RAJDHANI EXP

NEW DELHI

HOWRAH

17.00

20.50

12286

DURONTO EXP.

H. NIZAMUDDIN

SECUNDERABAD

15.50

19.20

12033

SHATABDI EXP.

NEW DELHI

KANPUR CTL.

15.55

18.15

12260

DURONTO EXP.

NEW DELHI

SEALDAH

20.05

23.15

12191

JABALPUR-N.DELHI EXP.

NEW DELHI

JABALPUR

14.05

17.00

12562

S.SENAI EXP.

NEW DELHI

DARBHANGA

20.40

23.20

15280

PURABIA EXP.

ADARSH NAGAR

SAHARSA

15.40

22.50

12560

SHIV GANGA EXP.

NEW DELHI

VARANASI

18.45

20.40

12302

RAJDHANI EXP.

NEW DELHI

HOWRAH

17.00

22.30

12034

SHATABDI EXP.

NEW DELHI

KANPUR CTL.

15.55

19.40

14164

SANGAM EXP.

MEERUT CITY

ALLAHABAD

19.00

00.30 ON 20 12 11

12816

PURI EXP.

NEW DELHI

PURI

6.30

11.40

14014

SADHBHWNA EXP.

DELHI JN.

SULTANPUR

16.20

20.50

12060

JAN SHATABDI EXP.

H. NIZAMUDDIN

KOTA

13.20

15.00

12954

AUGUST KRANT RAJDHANI

H. NIZAMUDDIN

MUMBAI CENTRAL

16.55

18.10

 

 

 

 

 

 

LATE RUNNING OF TRAINS MORE THAN ONE HOURS DUE TO FOG IN DELHI AREA

TRAIN NO.

TRAIN NAME

FROM

TO

SCH. ARR.(HRS)

LATE BY  (HRS.)

12447

U.P. S.K. EXP.

MANIKPUR

H.NIZAMUDDIN

5.30

5.15

12715

SACHKHAND EXP.

NANDED

NEW DELHI

13.10

4.15

12617

MANGLA EXP.

ERNAKULAM

H.NIZAMUDDIN

13.10

3.30

12723

A.P. EXP.

HYDERABAD

NEW DELHI

9.05

3.00

12627

KARNATKA EXP.

BANGALORE

NEW DELHI

10.35