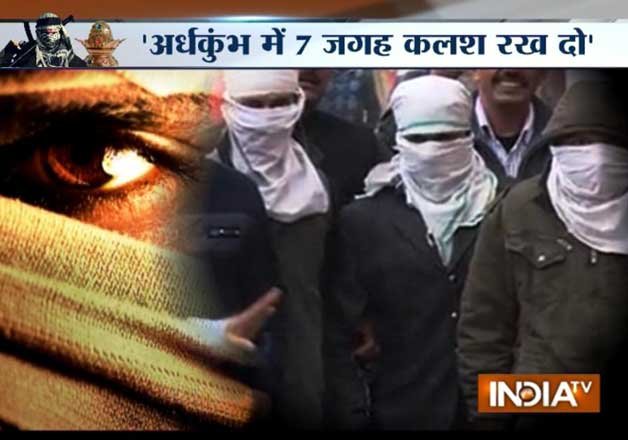 New Delhi: Acting on tip-offs provided by Central Intelligence Agency (CIA) about computers and phones being used by terror group ISIS, the Indian agencies have arrested over a dozen suspected operatives of the militant outfit.
According to Times of India, the arrest of almost 20 ISIS operatives in a nationwide crackdown was a result of cooperation between Indian and US intelligence agencies.
The report mentioned that CIA was closely monitoring hundreds of IP addresses of computers and smart phones being used by ISIS in Syria and Iraq. There were several addresses which ISIS operatives were using to access Facebook and other social networking platforms. All such IPs and proxy servers were under surveillance and one address was used by Sheikh Shafi Armar, head of newly formed terror outfit 'Ansar ul Tawhid ul Hind (AuT)' -- a subsidiary of Indian Mujahideen and has the imprints of the al-Qaeda and ISIS.
According to Ministry of Home Affairs, Armar, who was held in Bengaluru, could be the kingpin in the latest terror plot across the country. It is also believed that Armar was communicating with Akhlaq ur Rehman, an suspected ISIS operative arrested in Haridwar along with three others.
The agencies also intercepted calls, WhatsApp and Facebook messages exchanged between the terrorists. A message exchanged between Yousuf and Akhlaq reads, '7 kalash rakh do'. The code was interpreted as a plot to bomb seven places.
Armar's name was first appeared during the interrogation of arrested Indian Mujahideen operative Yasin Bhatkal. He had told interrogators that Armar and five others were given terror training recently in the Waziristan region of the Pakistan-Afghanistan border.
Tight security in Haryana for Modi, Hallande visit
As France is a friendly nation of the US, the CIA is involving itself in the security measures for the French President Francois Hollande visit to India on Republic Day.
The CIA has asked Haryana police to submit crime status report for Gurgaon, Faridabad and other adjoining districts as part of efforts to ensure proper security arrangements ahead of the one-day visit of PM Narendra Modi and Francois Hollande.
The two leaders have a programme scheduled on January 25 at National Institute of Solar Energy situated on the Gurgaon-Faridabad Expressway where the foundation stone for the interim secretariat of the international solar alliance will be laid.
The CIA has specifically asked the Gurgaon and Faridabad district administrations to provide action-taken report, especially in the vicinity of the Aravalli mountain range, which is known for illegal mining and other criminal activities.
Hawa Singh, ACP (PRO) of Gurgaon police, said that the spy agency has been focusing on Mewat district, where different security agencies have arrested four or five terrorists in the past three years. A suspected Al-Qaeda operative was nabbed by the Special Cell of Delhi Police from Mewat district last week. CIA has asked the police in Gurgaon, Faridabad and adjoining districts to submit data on all criminal activities reported in their respective areas.
The district administrations of Gurgaon and Faridabad have already imposed Section 144 in a radius of 2 km from the venue with SWAT teams also in place. Section 144 will also be imposed at prominent malls, shopping centres, strategic locations and crowded places between January 24 and 26.
High alert in Delhi
The national capital has been put under a tight security cover to ensure safe Republic Day celebrations. The police will be keeping an eye on crowded places, markets, bus stations, railway stations and other specific locations in the city to avoid any untoward incident.
Yesterday, the city police issued an alert after a taxi driver was hijacked by three unidentified people from Pathankot in Punjab and later was found dead in Himachal Pradesh.
Security agencies relate the incident similar to the Pathankot Indian Air Force (IAF) base attack in which a taxi driver Ikagar Singh was hired and killed by Jaish-e-Mohammed terrorist hours before their terror strike.
The Delhi Police issued the alert days before Francois Hollande is set to arrive in India to attend the Republic Day celebrations.
Police check-posts and border posts have been asked to do stringent checking of vehicles entering and moving within the city. Barricades have been set up across the city and traffic police officials have been deployed in adequate strength everywhere.
Several mock security drills were conducted at various places in the city in last one week.