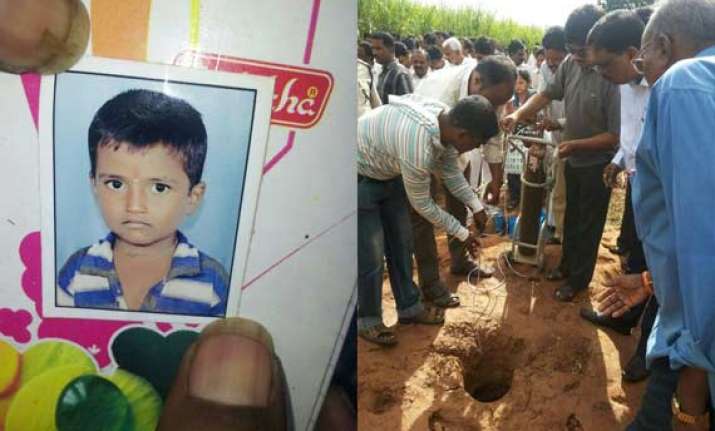 Bagalkot (Karnataka): A six-year-old boy fell into an open borewell at nearby Sulikeri village today and all out efforts were underway to rescue him.
Tipanna Hatti slipped into the 300-feet borewell in his father's sugarcane field while he had gone there to play with his 12-year-old cousin and is suspected to be stuck at a depth of 160 feet, senior district officials told reporters.
The National Disaster Relief Force team has been requisitioned from Pune, even as efforts are underway to gain access to the boy by digging a parallel pit and oxygen is being supplied to him, district in charge minister S R Patil told reporters at the site.
He said the administration has sought help from a special rescue team from Sangli in Maharshtra and a robot expert - Manunath - from Mandya in Karnataka. "The team from Sangli and the robot expert are on their way to the rescue site," he said.
"Rescue teams from Madurai and Chennai also will be pressed into service," Bagalkot Superintendent of Police Lada Martin Marbaniang said.
Officials said experts from the nearby Hutti gold mines have also been summoned.
Marbaniang said the boy is suspected to be stuck at about 160 feet.
Oxygen is being supplied into the borewell to keep the boy alive, Bagalkot Deputy Commissioner P A Meghannavar said.  "We could hear the boy calling amma, amma (mother)," he said in the initial hours of the rescue operation.
The district in charge minister is camping at the site, supervising the rescue operations.
On June 17, a four-year-old girl had fallen into an open borewell at Nagathana village near neighbouring Bijapur and was found dead after a 50-hour-long rescue operation.