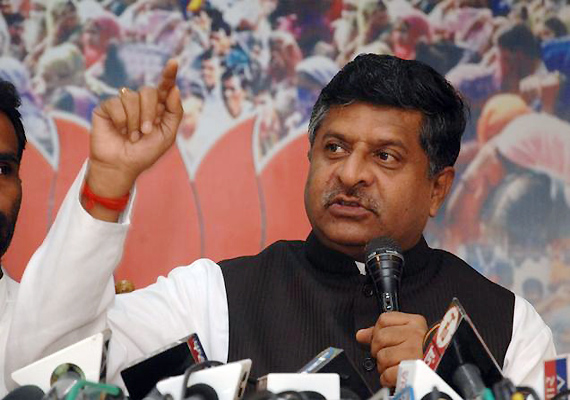 New Delhi, Feb 23: In the backdrop of the Supreme Court verdict on the midnight crackdown on Ramdev's supporters at Ramlila grounds here, BJP today targeted Delhi police as also their bosses in the Union Home Ministry and the government but rued the yoga guru too has been indicted.

BJP maintained Delhi police alone should not be held guilty for the "human rights violations" as it was "acting at the behest of their bosses in the central government, namely, Congress chief Sonia Gandhi, Prime Minister Manmohan Singh and union ministers P Chidambaram and Kapil Sibal.

"Such an attack on peaceful supporters of Ramdev would not have been possible without political clearance at a very high level. The policemen have suffered but what about political accountability?" BJP chief spokesperson Ravi Shankar Prasad said.

He alleged that not only Home Minister Chidambaram and HRD Minister Sibal were "accountable and responsible" for the incident but also Sonia Gandhi and the Prime Minister.

"(That is)...because her party and the government have sustained a campaign against Ramdev, Anna Hazare and Sri Sri Ravi Shankar," Prasad alleged.

However, BJP disagreed with the Supreme Court for holding Ramdev responsible for "contributory negligence".

"We do not agree with this view of the Supreme Court. Only if the crowd had been violent could Ramdev be held responsible. The organiser of the agitation cannot be held equally responsible. Then by the same measure, Mahatma Gandhi would be held equally responsible for the atrocities of the British during the freedom struggle," another BJP spokesperson Prakash Javadekar said.

Javadekar said BJP does not agree with the SC order that Ramdev's Bharat Swabhiman Trust should pay 25 per cent of the compensation.

"This is in a way akin to imposing a fine on Ramdev. We do not agree with it. Even the court is diluting the right to protest. We do not agree that Ramdev should be held responsible for contributory negligence," Javadekar said.

The party welcomed the SC observation that the whole scenario was avoidable.

"Delhi police violated the human rights of the people that night. We welcome the Supreme Court verdict. But this verdict also raises larger questions. If the police are responsible for the crackdown, then its bosses in the Home Ministry and the central government are also responsible," Javadekar said.

BJP alleged the Home Ministry headed by Chidambaram, the top brass of the UPA government as well as Sonia Gandhi had issued directions to Delhi police to go ahead with the crackdown.

Javadekar insisted the apex court has indicted Delhi police- and by extension the central government- on counts of perpetrating police action against a lawful gathering, acting in a barbaric manner, breaching the peace enforced by Section 144 IPC, attacking a crowd which was asleep, among other issues.