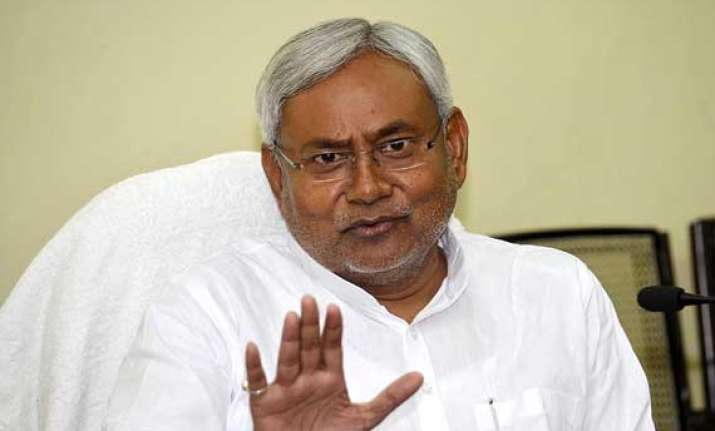 Patna: Accusing NDA government of neglecting Bihar in both general budget and Rail budget, senior JD(U) leader Nitish Kumar today said the state's resolve to develop has not been dampened by the Centre's 'indifference'.
"Our resolve to develop and bring Bihar on par with the country is not dampened by the undue neglect shown to Bihar in the general budget and rail budget for 2014 presented by the newly elected central government," Kumar said in his Facebook post.
The former chief minister, who won praise for bringing a turnaround in Bihar, said it was ironical that Union Finance Minister told the country that state was the best performing one in terms of growth rate in gross state domestic product (GSDP) at 15.1 per cent in 2012-13 and per capita income but not much assistance was provided to it to spur the growth.
He cited a Planning Commission report which said the GSDP growth rate of Bihar during 1960-61 to 1969-70 was 0.7 per cent (lowest in the country) and 1970-71 to 1979-80 was 2.8 per cent, which was again the lowest in the country.
During 1980 to 2004, GSDP of Bihar grew at a compound annual growth rate of 4.6 per cent against 5.8 per cent at the national level.
Alleging centre's 'unfair and biased' economic policies towards the state, Kumar said, "The resolve of Bihar has not weakened by the neglect shown by central government ...Bihar will not stop, it cannot be stopped."
"Freight equalisation enacted by the union government accelerated the flight of resources from Bihar and drying up of investments in the state. The state was consistently ignored in setting up of new central institutions," he wrote.
In an another Facebook post, Kumar spoke of the increase of forest and green cover in Bihar.
He quoted the latest Forest Survey of India report prepared on the basis of satellite imagery and field study which said the total forest area and green coverage has increased to 10.04 per cent.
Kumar said the five year agriculture roadmap of Bihar for 2012 to 2017 intends to increase forest cover from 9 per cent to 15 per cent.
JD(U), he said, took the initiative by launching 'Harit Bihar' programme in 2011 under which anybody who wished to become a member of the party had to plant a tree in his personal land. More than 10 lakh saplings were planted in one year at that time, he claimed.
After becoming chief minister Kumar had started the practice of planting a tree on the first Monday of the Hindu month of Shrawan. This year too he had planted a tree at his new address 2 Stand Road here yesterday.