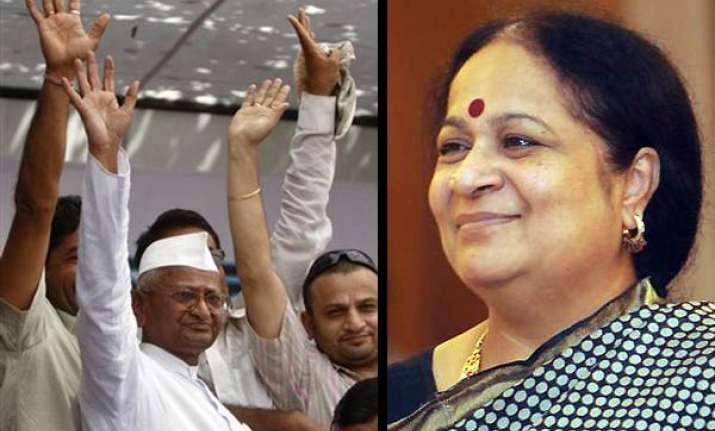 New Delhi, April 6: Congress spokesperson Jayanthi Natarajan on Wednesday described social activist Anna Hazare's fast unto death against corruption as "premature".

Speaking to media, Natarajan said, "we have great respect for Anna Hazare, but  this fast has happened in a premature way."

Natarajan said, the government and the Congress party fully agree with the need to root out corruption, but in a democracy, evey shade of opinion has to be taken into account.

Congress  says,  government has already constituted a panel headed by Defence Minister A K Antony to go into the issue.

"The Prime Minister has already constitued a sub-committee headed by Antony..... When the process was already on, then adopting such a path is perhaps not appropriate, probably unnecessary. We respect Hazare very much but the path he has adopted is premature," party spokesman Manish Tewari said.

Noting that the PMO has appropriately articulated its disappointment over Hazare's course of action, he said in a democracy, the government moves the bill and Parliament enacts it.

"And in between there is enough scope that if any constructive suggestion comes, amendments can be moved," he said requesting Hazare to heed the PMO's appeal and engage in a constructive discussion which could lead to enactment of a more comprehensive legislation.

He downplayed questions on National Advisory Council's reported rejection of the draft Lokpal Bill saying that in a democracy, differences always exist and a harmonious consensus is arrived at through healthy discussions.

Hazare today began a fast-unto-death in the capital demanding enactment of a comprehensive Jan Lokpal Bill to give wider powers to Ombudsman to check corruption.

Tewari strongly disapproved of Hazare's comments that the views of eminent persons were not considered important by the government and "a minister like Sharad Pawar, who is known for possessing large amounts of land in Maharashtra, is heading a committee that will draft the bill."

"If at all such an observation has been made, this we think, is absolutely uncalled for.....such utterances are totally uncalled for," Tewari said, adding that the persons included in the committeee have rendered distinguished public services.

He further said, "The Prime Minister's Office has very appropriately articulated their disappointment with the course (of action) Anna Hazare adopted."

The Congress spokesperson also said that the goverment always has an "open mind" and the civil society is free to give its views on the Lokpal Bill.

To repeated questions on the perceived differences between NAC and the government over the draft of the bill, Tewari said that as far as policy framework of the bill is concerned, the party and the government subscribe to the view expressed by Congress President Sonia Gandhi at AICC's plenary session in Burari last year.

When told about BJP's statement that it supported Anna Hazare's views on the draft bill, Tewari reacted sharply accusing the opposition party of being "in the habit of giving unsolicited advice".

He, however, added that the BJP was free to move for amendments when the bill is introduced in Parliament. Meanwhile a section in Congress sees the hand of RSS behind Hazare's agitation.

"It's a synchronized RSS game plan," said a senior party leader. He added that RSS has let lose all its sympathisers against the UPA government after the arrest of terror cases accused allegedly affiliated to organizations linked with RSS.
The leader said that there is a need to deal firmly with the issue.

In Guwahati, BJP leader Arun Jaitley urged the UPA government to take seriously social activist Anna Hazare's fast-unto-death for enactment of an anti-corruption bill to give wider powers to the Ombudsman.

"The Congress party and the UPA government should take this fast seriously and not take it to be merely politically motivated," Jaitley told reporters.

"Fighting corruption is a must and the government should talk to all concerned for bringing up the Lok Pal Bill in Parliament", the senior BJP leader said.

"The huge response to Hazare's fast shows that people are getting restless on the corruption issue and the government should respond," he added.

In Coimbatore, CPI(M) general secretary Prakash Karat extended his support to  Anna Hazare's fast-unto-death pressing for a comprehensive Lokpal bill, saying there should be an effective law to deal with corruption.

The government should consult all political parties, organisations, prominent persons before drafting or enacting the legislation, Karat told reporters.

Karat said the party had already voiced its opinion that the draft Bill in the present form was inadequate. If the government was committed to fighting corruption, an effective legislation was needed and the corrupt should be punished. PTI