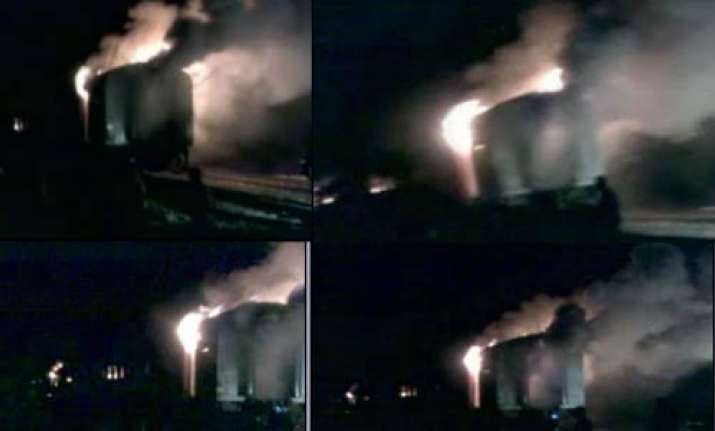 Ratlam (MP), Apr 18 : Four coaches of the Mumbai-Delhi Rajdhani Express were gutted between Alot and Thuriya stations in the district in the wee hours on Monday morning. All the 1,100 passengers on board the train were safe, officials said.

The fire broke out at a spot between the two stations, about 75 kms here, at around 2.20 AM in Kota division of West Central Railways, Ravi Mohan Sharma, Ratlam Divisional Commercial Manager, said.The four affected coaches were detached at Thuriya.

Preliminary investigation suggests that short-circuit caused the fire in B-6 and B-7 coaches and the pantry car, he said Sharma told PTI that B-6 and B-7 were fully damaged, while B-5 and the pantry car suffered minor damage.Railway authorities have announced ex-gratia of Rs 5,000 each for the 144 passengers in B-6 and B-7 coaches.

Fire tenders were rushed to the spot from Ujjain and Ratlam.Sharma said that Commissioner, Railway Safety (Central Circle) had started a probe and the report would be submitted to the Railway Board in seven days.

WCR Chief Public Relations Officer, Piyush Mathur said that after the affected coaches were detached, the train left for Delhi at around 8.20 this morning.Rail traffic was disrupted in the Nagda-Kota line for some time due to the incident, he said.Helplines have been set up at Kota, Ratlam and Mumbai to provide information about the incident.

Though none was injured in the incident Railways has declared ex-gratia of Rs 5,000 for the passengers of coaches B6 and B7, which were affected by the blaze, the spokesperson said.Rail traffic has been disrupted in the Nagda-Kota line due the fire.

Railway Board PRO Anil Saxena said all steps are being taken to resume traffic in the line at the earliest and food and  water is being supplied to the passengers.
There were about 900 passengers including Railway staff in the train.

A three-member Railways team consisting of senior railway officials have been dispatched to the spot. The officials in the team are -- Arunendra Kumar, R N Lal and Ashish Malhotra, Saxena said.A team of forensic experts have arrived in Ratlam to probe the cause behind the fire.