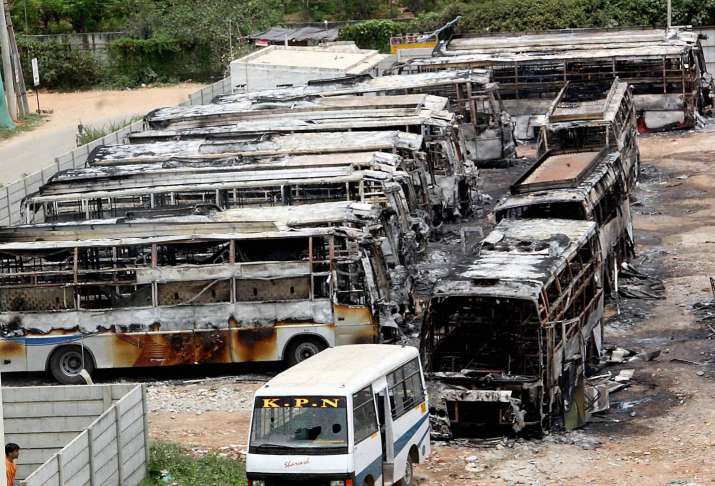 Karnataka and Tamil Nadu, locked in a battle over distribution of water of Cauvery river water, have provided data to the Cauvery Supervisory Committee which is analysing the information. 
The Committee, which is to meet here tomorrow to decide on the quantum of water to be released, is analysing the data given by both states and may defer its decision if the information provided is found to be "inadequate", sources privy to the development said. 
A source said Tamil Nadu and Karnataka have submitted to the committee data about withdrawal of water, its utilisation, variation in rainfall and its impact on the actual run-off over a period of 29 years in their respective Cauvery basin areas.
The panel, which has to take a decision on the quantum of Cauvery water to be released by Karnataka to Tamil Nadu and other states, had sought the information from them in its last meeting on September 12. 
The source said the data is being analysed by officials from the Union Water Resources Ministry and Central Water Commission. 
"The states have made available information which the panel had sought during its last meeting and the same is being studied now. 
"The panel will not pass an order in haste. The committee will have to defer its order, if the data turns out to be inadequate to arrive at a fact-based and right decision," the source said. 
The panel had failed to arrive at a decision on the quantum of water to be released by Karnatakaafter September 20 during its last meeting for want of adequate information. 
Therefore, it had asked them to provide the information by September 15. 
In an interim order on September 5, Supreme Court had asked Karnataka to release 15,000 cusecs of Cauvery water daily for next 10 days to Tamil Nadu, leading to protests in parts of Karnataka. 
The apex court had also asked Tamil Nadu government to approach the committee, headed by Union Water Resources Secretary Shashi Shekhar, to decide on the quantum of Cauvery water to be released to Tamil Nadu and other states after the period of 10 days was over. 
However, under pressure following the protests, the Karnataka government approached the Supreme Court on September 11 seeking modification of the interim order. 
Hearing the plea, the SC then amended its order, directing Karnataka to release a reduced quantum of 12,000 cusecs of water daily to Tamil Nadu till September 20. 
"We will take decision on the matter as directed by the Supreme Court on September 5 when it had asked us to stick to the language of Cauvery Water Disputes Tribunal while deciding on the quantum of the water," the source added.