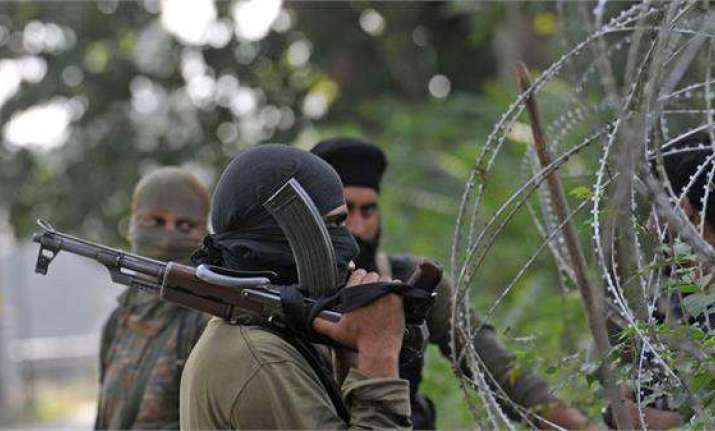 Suspected Lashkar-e-Taiba (LeT) militants tonight shot dead three civilians in the Old Town of Baramulla district in Jammu and Kashmir today, police said. The militants opened fire at the trio around 8.30 pm from a very close range in Iqbal Market at the Old Town, leaving them dead on the spot, the police said.
The three persons, Asif Ahmad Sheikh, Haseeb Ahmad Khan and Mohmmad Asgar, all in their early 20s, were residents of Kakkar Hamam in Baramulla, a police official said.
 
Director General of Police SP Vaid confirmed the killings in the attack and said senior police officials have rushed to the spot in north Kashmir.
Preliminary police investigation revealed complicity of the Pakistan-based LeT terror group. One Pakistan-based and two other local militants of Old Town, Baramulla are the principal suspects in this case and wanted by the law, the police official said.
The police have launched a detailed investigation into the matter, he added.
The attack has come on a day when a top Hizbul commander, Sameer Tiger, and his associate Aquib were killed by security forces in an encounter. A civilian also lost his life during clashes in Jammu and Kashmir's Pulwama district.
Police sources said Sameer Tiger, who was on the list of most wanted militant commanders in south Kashmir, was killed in Drabgam village. Three soldiers including a Major were injured in the gunfight. 
A teenager, Shahid, 14, was killed during clashes between protesters and the security forces in Drabgam village. Fifteen other civilians were injured in the clashes.
The Rashtriya Rifles, the Central Reserve Police Force (CRPF) and the Special Operations Group (SOG) of Jammu and Kashmir Police surrounded Drabgam village following information about the presence of militants.
Police said that as the security forces closed on the hidden militants, they opened fire, triggering an encounter.
Mobile Internet facility has been suspended in south Kashmir as a precaution.
(With inputs from agencies)