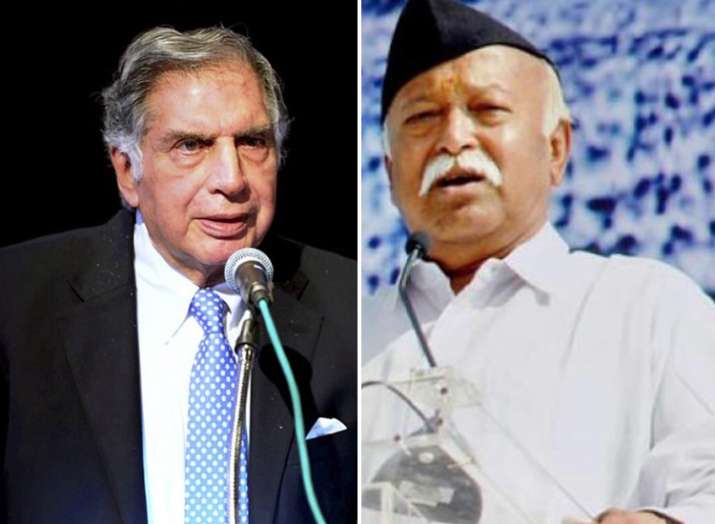 Renowned industrialist Ratan Tata will share the stage with Rashtriya Swayamsevak Sangh (RSS) chief Mohan Bhagwat at an event to be held in Mumbai next month, news agency PTI reported.
A functionary of the RSS confirmed to the PTI that Tata and Bhagwat will attend an event in Mumbai on August 24 organised by the Nana Palkar Smriti Samiti.
Nana Palkar Smriti Samiti is an NGO that is named after Sangh pracharak Nana Palkar. The NGO has its premises near the Tata Memorial Hospital in Mumbai and has been serving cancer patients from the facility.
Tata has visited the premises and is aware of the NGO's work, the Sangh functionary said.  
However, the Tata Trusts spokesperson declined to comment on the matter, saying if at all it happens, it will be a private affair of the 81-year-old Tata Group patriarch.  
Former president Pranab Mukherjee had attended a function of the RSS in Nagpur, an event which had become a matter of much debate.
Ratan Tata had earlier on December 29, 2016, paid a surprise visit to the RSS headquarters in Nagpur on his 79th birthday which his spokesperson then had termed as a "courtesy call". 
"We have approached Tata for gracing the occasion of the centenary of our founder Palkar and the golden jubilee of our organisation on August 24. But he has neither accepted our invite nor declined the same. So we are hopeful," one of the secretaries of the samiti told PTI over phone. 
 
The big-ticket event will be held at the Yashwant Natya Nandir in Matunga in central Mumbai, the NGO official said. 
The over 160-year-old Tata Trusts, which is the largest public charity in the country, has been a supporter of the Nana Palkar Smriti Samiti and had initially funded purchase of dialysis instruments and other palliative care equipment by the orgnaisation, the official of the NGO said.
(With PTI inputs)