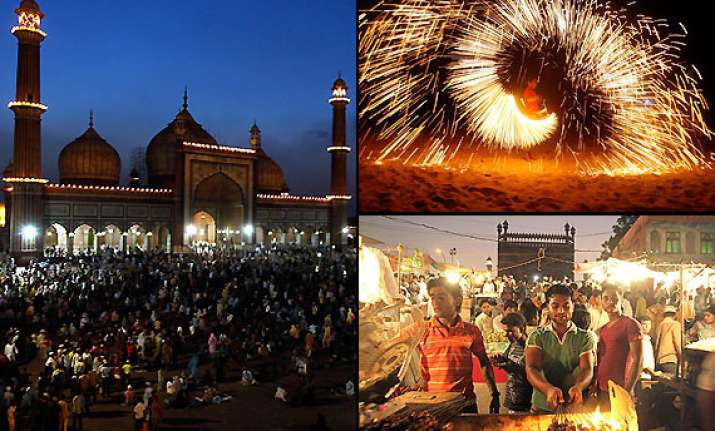 New Delhi: The spicy aroma of kebabs and curries, bright, colourful shops and stalls and crowds of happy people - many of whom indulge in shopping and feasting all night - bring the walled city in the Indian capital to life every night during the ongoing Muslim holy month of Ramadan.
As the sun sets, the faithful break their day-long fast and set out with families and friends to the nearby markets of Jama Masjid in search of food as well as clothes, footwear, jewellery and accessories to be worn on the Eid (July 29) that marks the end of the month- long fasting.
According to shopkeepers, thanks to a wide variety of skullcaps available this year, they are selling like hot cakes.
"Different designs and vivid colours are driving the sales of the skullcaps, which are the most popular product this season," Zahid Ahmad of ZS Cap House opposite Gate No. 1 of Jama Masjid, told IANS.
Though the shops in the market sell skullcaps all year round, the stock during Ramadan is always different and exclusive.
"During the festival, extra efforts are made to provide something different to the customer; like this year, caps made of velvet and imported from Bangladesh - called *turki topis - are quite popular and are available for Rs.50 (85 cents) a piece," he said.
"Also in demand is the Asian cap which is made in Mumbai and sells for anything between Rs.25 and Rs. 50."
In addition to the skull caps, shopkeepers selling 'ittar', which is a natural perfume made by blending herbs and flowers, are also doing brisk business.
"Fragrances like sandalwood, jasmine, rose, rajnigandha and gulab are selling quite well," said Mukul Gandhi, owner of an 'ittar' shop in Chandni Chowk's Dariba Kalan.
However, the highlight of the festival remains food and not just the locals but Delhiites from all over the city throng the area to get a taste of the elaborate platter on offer - leaving them spoilt for choice.