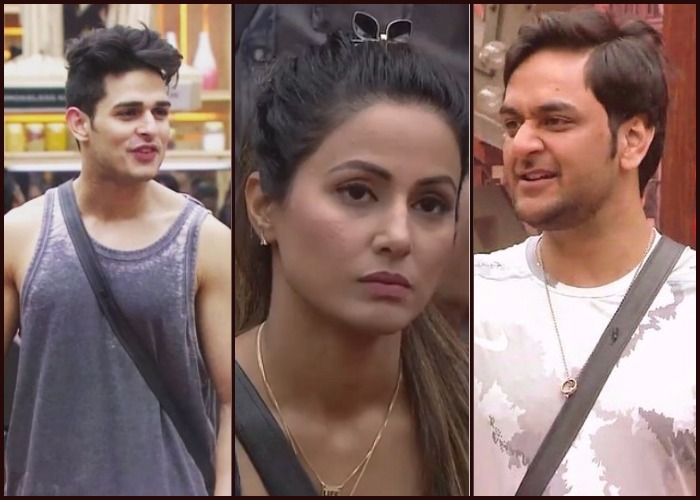 Another day ended at Bigg Boss 11 on Friday with loads of twists and turns and of course, fights. The day started with Puneesh and Arshi bitching about Luv. They also mocked Hina Khan for always seeking support of men and the way she's handling captaincy. This day was going to be eventful as the wildcard entry Priyank Sharma was making his re-entry in the show. Let's see how things unrolled when Priyank Sharma makes a comeback in the Bigg Boss house. 
Priyank Sharma's comeback 
As expected, the housemates were elated to see him back. Hina rushes to meet him. But it was Benafsha who surprised the viewers. She had an emotional breakdown when she sees him back on the show. It was now the time for a reunion of old buddies Priyank and Vikas Gupta. He gives him a warm welcome with his eyes welled up. Vikas also warns him to not care about anyone, as everyone's only bothered about the game. 
.@iPriyankSharmaa ke #BB11 ghar mein vaapas lautne se gharwale huye khush! Witness it tonight at 10:30pm! #BBSneakPeek pic.twitter.com/9gMRcu1u3H

— COLORS (@ColorsTV) October 27, 2017
Dhinchak Pooja records another cringe-worthy rap in the house 
Bigg Boss assigns Pooja a task of making a rap about housemates. Housemates find the lyrics of the song uncomfortable. Sapna finds them very offensive and refuses to record the song. She also lashes out at Arshi Khan for purposely making fun of her illness. 
Another argument between Vikas Gupta and Shilpa Shinde 
Shilpa and Vikas argue with each other over Dhinchak Pooja's rap. She asks Vikas to not to interfere in her rap as she's the director of the song.  
Hina and other housemates mock Dhinchak Pooja and her song Dhinchak Pooja sings her rap while housemates mock her. Sapna finds the rap very offensive as it ridicules the contestants. Hiten also joins them. Hina Khan finds Dhinchak Pooja quite nasty and mean. 
Sapna and Arshi get into a bitter fight
Just like usual, Sapna and Arshi get into a verbal fight as latter blames Arshi for framing the lyrics of the rap. Sapna also confronts Arshi about the 'kaand' she is talking about. They both accuse each other of coming from a dirty place and the fight gets personal. Arshi has an emotional breakdown, while Priyank comforts her. Arshi blames Priyank for revealing her secret to everyone. 
Sapna Choudhary loses her calm at Arshi Khan & Akash Dadlani. Tune in tonight at 10:30pm to find out why! #BB11 #BBSneakPeek pic.twitter.com/5tvUwo29iZ

— COLORS (@ColorsTV) October 27, 2017
Priyank warns Bandgi Kalra about Puneesh 
Priyank tells Bandgi that Puneesh is hiding things from her. He has a child. Following this, Bandgi confronts Puneesh about having a kid, but he declines the accusations. 
The episode ends with housemates watching Dhinchak Pooja's rap on the TV. They make fun of it later. During the episode, Sapna Choudhary is heard saying that if one wants tumours, he should be made to listen to Dhinchak Pooja's song for two months straight. 
This week, Jyoti Kumari, Akash Dadlani, Hina Khan, Shilpa Shinde, Vikas Gupta and Benafsha Soonawalla are nominated for eviction this week.