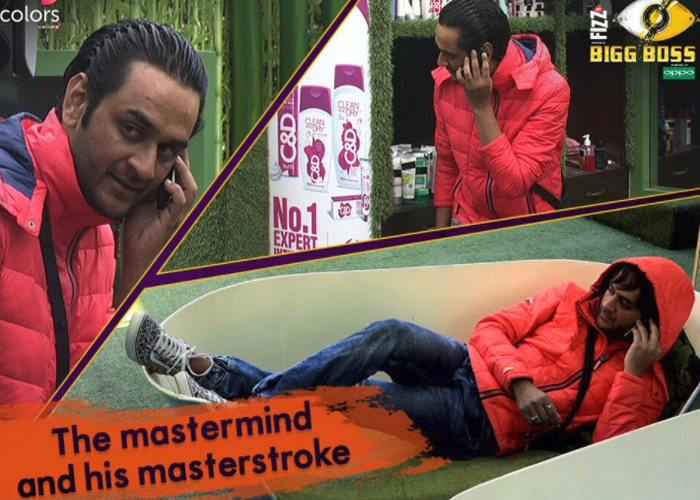 After a happy day for all the remaining housemates including the Hina Khan, Vikas Gupta, Shilpa Shinde, Akash Dadlani, Priyank Sharma, Luv Tyagi and Puneesh Sharma, it's going to be another surprising day for them. In the yesterday episode, contestants got a chance to meet their family members and relatives. Luv, Priyank and Shilpa broke down after seeing their relatives in the Bigg Boss house yesterday. In the today's episode, Vikas was asked to do a secret task.  
Live Updates:
11:27 PM: Vikas says sorry to Akash. Akash says he feels safe in the Bigg Boss house. Akash says he wants wo stay forever in the house. 
11:22 PM: Party begins in the house. Ainvayi Ainvayi song from Band Baja Baarat film starts in the house. All the contestants in the house house dances in the lawn area.
11:15 PM: Vikas plans to get into fight with Puneesh and Priyank. Shilpa, Hina and Luv laugh at Vikas's changed behaviour. Vikas acts that he is crying. Vikas tries to intensify his fight with Priyank and Puneesh. Puneesh gets a hint of foul play in Vikas's trick. Akash calls Shilpa a flip aunty. Vikas succeed in his task and earns a party for everyone.
11:05 PM: Akash gets targeted by Priyank and Luv. Vikas is once again called in the confession room. Bigg Boss asks him to throw three clothes of any contestants in the swimming pool. Bigg Boss tells Vikas to do this in an angry mood.
10:55 PM: Akash is locked in the jail. Puneesh and Vikas patch up. Luv and Vikas tease Hina and says she is a real actress as she can easily shed tears. Vikas is given another task to win food for the party. Vikas keeps the coffee bags in Akash's bag. Vikas asks Priyank to search the coffee bag.
10:41 PM: Vikas is called in the confession room. Bigg Boss assigns him a secret task. If he succeed in the task, Bigg Boss will throw a party in house. Bigg Boss then asks the housemates to suggest the contestants name to be sent in the jail. Everyone suggest Akash's name. Akash gets angry and fights with everyone. Vikas tries to save Akash. Puneesh asks Akash not to trust Vikas. Luv and Priyank also try to convince Akash.
10:32 PM: Hina Khan talks about Vikas Gupta. She discusses Luv about Vikas's mastermind tag. Vikas says that the captaincy task is completed and he announces Priyank's name as the new captain of the house.