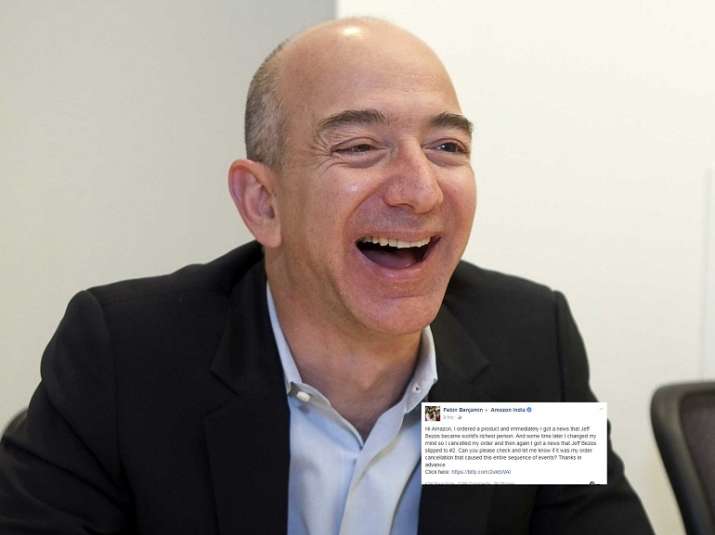 Internet is a funny place and it getting even funnier as the technology is advancing. Internet provides an open playground to everyone to explore their goofy sides. And so this man was having a field day on Facebook. He posted a feedback on Amazon India's official Facebook page and within no time, the post triggered a number of reactions, majority of which are by the ones who are dying out of laughter after reading it. We would really like to have peek into the mind of this Facebook user, as to what was he thinking while writing this post. 
Let's give you a brief flashback to what happened on Thursday. Amazon's founder Jeff Bezos was briefly the richest person in the world when the recent surge in Amazon stock has pushed Bezos' fortune over $90 billion, letting him surpass Microsoft founder Bill Gates for a brief moment. As Amazon's shares fell back, Mr Gates regained his spot in the list of richest man. 
Meanwhile, in the parallel universe *just kidding* , in India, a Facebook user has a complete different theory to Jeff Bezos reaching the top. Here's what he wrote in his Facebook post.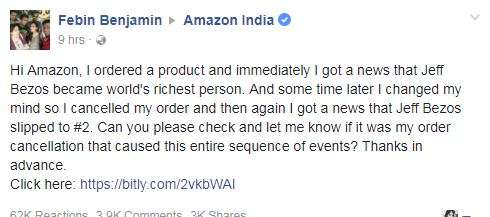 Hi Amazon, I ordered a product and immediately I got a news that Jeff Bezos became world's richest person. And some time later I changed my mind so I cancelled my order and then again I got a news that Jeff Bezos slipped to #2. Can you please check and let me know if it was my order cancellation that caused this entire sequence of events? Thanks in advance.
This man's sense of humour is totally bang on. And so the post has been shared on Facebook for more than 3,000 times with more than 60,000 likes in just few hours! Truly, it takes only a single post to become a superstar on social media and the cool guy totally nailed it. 
Indians never spare an opportunity to crack a joke, especially when it's on social media. Here's some of the funniest reactions on the post that's taking internet by storm. 
A Facebook user Jatin Bajaj says, "Are Bhai kya kar dia. Humari salary kaat li inhone is mahine ki." 
Ruman Gumja demands a medal for the person who wrote the post and we couldn't agree more! 
Some even commented that they want to be as optimistic as this guy is. 
One thing is for sure, this Facebook user is at a different level of optimism. We all wish to be as cool as him.
For more Trending news, follow our Facebook page